(CNN) -- Facetime with Saad Hariri, Leader of Future Movement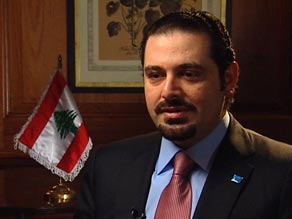 Saad Hariri is the leader of Lebanon's majority party, Future Movement.
Lebanon's economic growth may have slipped from an estimated 7 percent to 4 percent so far this year, but according to politician and businessman Saad Hariri, the country should largely escape the effects of the global slowdown.
The leader of Lebanon's majority party talks to MME about the credit crisis, its impact on remittances, and how he believes peace in the Middle East is the only way to bring political and economic stability to his country.
In focus -- The Land Grab
The Gulf might have oil, but it has a shortage of arable land. A year ago, food prices skyrocketed and there were shortages of all kinds -- even for basics, such as bread.
The shortage caught the region flat-footed, and now food security is a top concern for many countries. It has prompted the likes of Saudi Arabia and Qatar to use their petro-dollars to buy farmland in Africa and Asia to feed their people.
In the long run, could this search for food security also develop sustainable agricultural businesses and local jobs in the process?
Watch the show this week at the times (GMT) below:

Friday: 0815, 1945
Saturday: 0545
Sunday: 0715
E-mail to a friend