JERUSALEM (CNN) -- The Central Committee of Israel's Labor Party voted Tuesday to join a coalition government headed by Likud Party leader Benjamin Netanyahu.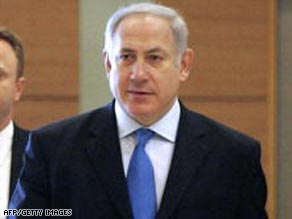 Benjamin Netanyahu's coalition offer was accepted by Labor on Tuesday.
According to the proposed agreement between the two, Labor leader Ehud Barak would remain Israeli defense minister, and Netanyahu would achieve his goal of broadening a coalition made up mainly of right-wing parties by including the center-left Labor Party.
Those in favor of joining the coalition led the voting by 15 percent, party officials said, downplaying the possibility those opposed would bolt.
A tentative deal between Barak and Netanyahu was announced Tuesday morning. Speaking to the Labor Central Committee later in the day in Tel Aviv, Barak said joining the coalition would be best for Israel, and implored the members to affirm his decision.
He told the Labor assembly that "unity is what this country needs. ... A narrow right-wing government is not good for the state of Israel."
Barak brushed aside criticisms from fellow party members that he was merely seeking to selfishly keep himself in government and argued that he would be the best counterweight to a right-wing Netanyahu coalition.
"I am not scared of Netanyahu. ... I will not be anyone's fig leaf," he said. He told delegates that the many security challenges facing Israel require Labor's involvement in the government.
According to Israeli media reports, the vote was 674 in favor and 530 against.
Barak's comments followed a raucous series of speeches by Labor members expressing both support for and opposition to his plan to bring Labor into the government. Labor has 13 seats in Israel's 120-seat parliament, the Knesset.
Another Labor Party leader, Shalom Simchon, told Army Radio, "This is a dramatic agreement." Simchon is also agriculture and rural development minister.
"I've been a member of three governments. The scale of this achievement is unprecedented," he said.
Ofir Pines, a Labor official who opposed the proposed coalition pairing, said before the vote, "This is the most dramatic decision in Labor history ... I hope the party proves it is not for sale, that it has a backbone."
Israeli President Shimon Peres on Friday granted Netanyahu a 14-day extension to negotiate a new coalition government.
The prime minister-designate has had difficulty wooing moderate parties, including Labor and Kadima, into his government packed with right-wing allies. In February's elections, Netanyahu's Likud party won 27 seats, far short of the minimum 61 needed to govern. Since then he has been trying to put together a coalition.
If he had not brought Labor into his government, Netanyahu might have been forced to concede some key ministerial posts to nationalist Avigdor Lieberman's Yisrael Beytenu party, which, with 15 parliamentary seats, would be the second-largest faction in the coalition government behind Likud.
The moderate Kadima Party has the most seats in the Knesset, 28. Netanyahu failed to forge a unity agreement with Kadima's leader, Foreign Minister Tzipi Livni.
E-mail to a friend

CNN's Guy Azriel and Kevin Flower contributed to this report.