TEHRAN, Iran (CNN) -- Iran's supreme leader Ayatollah Ali Khamenei said Saturday he sees no change in U.S. policy toward Iran despite the U.S. promise of a "new beginning."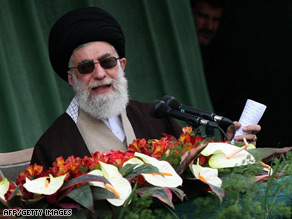 Ayatollah Khamenei said Iran would change its policy when the U.S. did so as well.
Khamenei said a change in rhetoric is not enough, and Washington must practice what it preaches, according to the English-language Press TV channel in Iran.
He also promised that Iran will change its policy if the United States does so as well, Press TV reported.
Khamenei's comments, which he made in a televised address to mark the start of the Iranian New Year on Friday, come a day after U.S. President Barack Obama reached out to Iran in a videotaped message.
A spokesman for Iranian President Mahmoud Ahmadinejad condemned U.S. foreign policy Friday in response to the video.
Obama's message spoke of "new beginnings" with the promise of a new year.
"My administration is now committed to diplomacy that addresses the full range of issues before us, and to pursuing constructive ties among the United States, Iran and the international community," the president said in his message Friday.
Obama said the United States seeks engagement with Iran that is "honest and grounded in mutual respect."
The president's message is part of a dramatic shift in tone from that of the Bush administration, which branded Iran as part of an "axis of evil" along with North Korea and Iraq. It also echoes Obama's inaugural speech in which he told the Muslim world, "We seek a new way forward, based on mutual interest and mutual respect."
Ahmadinejad said last month that Iran would welcome talks with the United States "in a fair atmosphere with mutual respect."
Khamenei also said world powers have come to realize they are not able to block Iran's nuclear progress. He looked back on the February 25 testing of Iran's first nuclear power plant, at Bushehr, as one of the "joyful developments" of the past year.
Last month, the Washington-based Institute for Science and International Security released a report saying that Iran has reached "nuclear weapons breakout capability" -- it has enough uranium to make a nuclear bomb.
The report was based on an analysis of data from the International Atomic Energy Agency. However, an IAEA official who asked not to be named cautioned against drawing such dramatic conclusions from the data, saying Iran's stock of low-enriched uranium would have to be turned into highly enriched uranium to be weapons-grade material. That hasn't been done, the official said.
The United States has had tortuous relations with Tehran since the Islamic revolution in 1979.
Meanwhile, the widow of the late founder of the Islamic Republic, Ayatollah Ruhollah Khomeini, died Saturday morning after a long period of illness, the Iranian-run Islamic Republic News Agency said.

A funeral for Khadije Saghafi was scheduled to be held Sunday in Tehran and she was set to be laid to rest in Khomeini's tomb, the agency reported.
Khomeini was the leader of the 1979 revolution that led to the toppling of the shah of Iran and the ushering in of an Islamic state. He died in 1989.
E-mail to a friend

All About Mahmoud Ahmadinejad • Tehran • Iran • Barack Obama