(CNN) -- The leaders of Saudi Arabia, Egypt and Syria will meet in Saudi Arabia on Wednesday for a mini-summit designed to improve relations between the countries, according to a Saudi government official who did not want to be identified.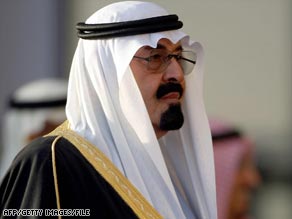 Saudi Arabia's King Abdullah will host the mini-summit.
The three leaders are Egyptian President Hosni Mubarak, Syrian President Bashar al-Assad, and Saudi King Abdullah.
The source said "an open invitation" has been issued "for the leaders of any Gulf country and the leader of Jordan to attend the summit."
There has been tension between Saudi Arabia and Syria over Syria's ties to Iran, its support for militant groups such as Hamas and Hezbollah, and allegations over Syrian links to the killing of former Lebanese Prime Minister Rafik Hariri.
Syria differed with Saudi Arabia and Egypt over how to deal with Hamas during Israel's Gaza offensive. Egypt is working to resolve differences between the Palestinian groups Hamas and Fatah.
Egypt and Saudi Arabia are two of the United States' closest allies.
But there have been sharp differences and episodes of antagonism between Syria and the United States over the years on several issues, including Israel, Iraq and Lebanon.
The United States withdrew its ambassador from Syria four years ago, in protest over the assassination of Hariri.
Washington accused Syria of being behind the killing of the popular statesman in a massive bombing that also left 22 others dead.
Syria denied it, but an ongoing U.N. investigation has found indications of Syrian involvement.
Last week, U.S. envoys Jeffrey Feltman and Daniel Shapiro met with Syrian Foreign Minister Walid Moallem. Secretary of State Hillary Clinton earlier announced that the meeting was to explore Washington's relationship with Damascus
E-mail to a friend

CNN's Mohammed Jamjoom contributed to this report