(CNN) -- An American journalist detained in Iran has received a visit from an attorney, her father said on Monday.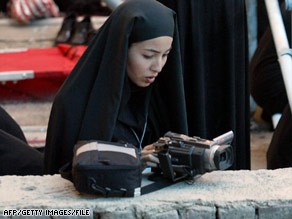 Journalist Roxana Saberi, shown working in Iran in 2004, was detained more than a month ago, her father says.
"We're relieved" at news of the attorney's visit to Roxana Saberi, said her father, Reza Saberi, from his Fargo, North Dakota, home.
He said he spoke with the attorney shortly after the visit Sunday.
"He [the attorney] said initially her spirits were not good and she was not feeling well. When she started to talk, she cried. But her spirits changed when she heard about the outpouring of support. She had no idea how much attention her arrest is getting," Saberi said.
The Committee to Protect Journalists said Monday it delivered a petition bearing more than 10,000 signatures to Iranian diplomats at the United Nations. The petition calls for Iranian President Mahmoud Ahmadinejad to intervene in the situation.
"All of us are anxious to see [Saberi] released as soon as possible," CPJ Executive Director Joel Simon said in a written statement. "But at a minimum, she is entitled to basic due process. We call on President Ahmadinejad to ensure that her basic human rights are respected."
Saberi's father has said his daughter called him on February 10 and said she'd been arrested 10 days earlier.
"She said she bought a bottle of wine last year and kept it to take to a friend for her birthday," Reza Saberi said. "She said authorities told her the person who sold her the wine turned her in." Alcohol is banned in Iran.
Don't Miss
Asked on March 2, Iran's Foreign Ministry would not confirm that Saberi was in custody or provide details of her alleged arrest. Ministry spokesman Hassan Qashqavi, however, said she had been working there without a permit.
"In fact, her press card was revoked," Qashqavi said. "Without a permit, she should not have been engaged in news and information gathering in Iran."
CPJ, however, said in its Monday statement that a spokesman for Iran's judiciary confirmed on March 3 that Saberi, 31, was being held at Tehran's Evin prison.
Her father said Saberi has freelanced for National Public Radio and other news organizations and was writing a book about Iranian culture. She was almost finished, he said, and planned to return to the United States this month.
The Committee to Protect Journalists launched the petition on the social networking site Facebook on March 2, hoping to collect 1,000 signatures. However, the committee said the public outcry against Saberi's detention was so great that it extended the deadline for signatures.
Reza Saberi said Monday he still does not know when his daughter will be released or what charges she is facing.
"They said she'd be released in the next few days," he said, referring to what his daughter told him in February. "A few days have passed and she's still not out."
E-mail to a friend

All About Iran • Mahmoud Ahmadinejad