Fareed Zakaria is a foreign affairs analyst who hosts "Fareed Zakaria: GPS" on CNN at 1 and 5 p.m. ET Sundays.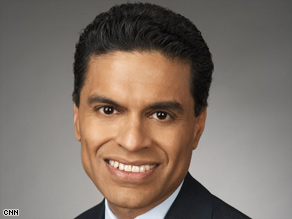 Fareed Zakaria says Cllinton's Mideast trip shows people there that the U.S. is working on their problems.
NEW YORK (CNN) -- The United States is calling for a conference on Afghanistan and the broader regional challenge to take place March 31, Secretary of State Hillary Clinton announced Thursday.
Clinton made the announcement in her first address as secretary of state to the North Atlantic Council at NATO.
A senior U.S. official told reporters, "I would expect that Iran would be invited."
Ministerial-level officials would participate. Clinton did not name a location for the conference but said the United States is discussing this now with U.N. Secretary-General Ban Ki-moon, including whether the U.N. would chair the meeting.
Author and world affairs expert Fareed Zakaria talked to CNN about Clinton's first trip to the Middle East.
CNN: Hillary Clinton has just come back from her first trip to the Middle East. How did she do?
Fareed Zakaria: She's off to a great start. Obviously, the problem there isn't going to be solved overnight. But by making an early visit there -- coupled with President Obama's decision to give his first interview as president to an Arab network, Al Arabiya -- it sends the signal that America is engaged and committed.
Most people in the region aren't expecting miracles, but they want a sign that America is working on their problems.
'Fareed Zakaria GPS'
Christopher Hitchens, Bernard-Henri Levy and Fawaz Gerges discuss whether the Taliban and al Qaeda are one and the same on this week's "GPS"
Sunday, 1 & 5 p.m. ET

CNN: What's the next step toward a resolution of the Israeli-Palestinian crisis?
Zakaria: The most important short-term obstacle is the division of the Palestinian community between Fatah (the party than runs the West Bank and is internationally recognized as the legitimate government of the Palestinian Authority) and Hamas (the radical Islamic party that won elections in Gaza).
The Egyptian government is holding talks and trying to create a unified Palestinian coalition that would encompass both sides. We have Gamal Mubarak, the son of President Hosni Mubarak and a leader of Egypt's ruling party, on the program Sunday, and he reports that the talks are going well.
Washington and the world should strongly support this move.
CNN: Is Gamal Mubarak going to succeed his father as president of Egypt?
Zakaria: Well, you'll have to tune in on Sunday to hear him respond to that question. What I can say is that he has been the force behind a great deal of modernization and reform in Egypt over the last five years.
The government has made major strides in economic reform -- and the result has been robust growth -- and also opened up media, the courts, and even the political system a bit.
CNN: But isn't the radical Islamic group, the Muslim Brotherhood, banned?
Zakaria: Yes it is. And I ask him about that. Mubarak argues that Egypt should not have political parties that try to use religion as their chief platform, that it divides the country and creates sectarian tensions.
Other countries have similar bans. India, which is a flourishing democracy, has a strict rule against the use of religion in any way during political campaigns.
Is it a viable rule, or will it only enhance the radical Islamists' appeal? I think that in Egypt, the fact that the regime is opening up gives them a lot of credibility on this issue.
The key is that they should keep opening up -- let people speak, write, broadcast -- all points of views, and this will give them the space to draw certain limits to what kind of parties they will allow.
CNN: Why is Egypt so important?
Zakaria: It's the heart of the Arab world -- historically the most important country, with the greatest writers, intellectuals, artists and political figures. Most of the great forces in the region start there.
It's in Egypt that pan-Arabism began, under the charismatic President Gamal Abdul Nasser in the 1950s. It was also in Egypt that Islamic fundamentalism was most powerfully articulated, by Syed Qutub, an intellectual.
So if there is going to be reform in the Arab world -- towards more modern, less extreme ways -- it will be Egypt that leads the way.
E-mail to a friend

All About Ban Ki-moon • Al Arabiya TV • Hosni Mubarak