By Reza Sayeh
CNN





TEHRAN, Iran (CNN) -- For years Ahmad has been unable to find true love. So the 27 year-old bachelor who lives in Tehran is turning to a professional matchmaker.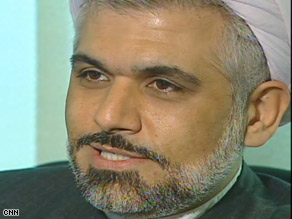 Jafar Ardabili's matchmaking service provides one option for Iranian singles.
"I'm searching for a love that lasts," Ahmad said.
What's unusual is Ahmad's matchmaker wears a turban, a robe and could be the first-ever Iranian cleric who plays cupid.
"First they say 'wow'," Jafar Ardabili said, "then they take a closer look and say 'since he's a cleric we have faith in him.'"
Ardabili made his first love match 10 years ago while he taught at a Tehran university. One of his students had a crush on a person, so Ardabili arranged for the two to meet. A few months later they married.
The set-up worked so well that Ardabili and his wife opened the Amin International Family and Cultural Institute, a service that matched Iranian singles in a supervised setting.
In Iran, Islamic law restricts social interaction.
"You can't just go after someone in public and say would you like to live with me?" Ardabili said. "Especially the women, who often don't have any right to choose their companion, but in our institute women do have the right to choose."
Ahmad would love nothing more than one of those women to choose him. On a Thursday morning he anxiously sat in the institute's waiting room. Ardabili had arranged for Ahmad to meet a young lady. Could she be the one?
Ahmad had paid a $100 fee, submitted a picture and his information. In return he has access to thousands of other applicants.
Once applicants approve of one another's pictures and profiles Ardabili arranges up to two meetings inside his office. After each meeting, the applicants report back to Ardabili.
"When there's no connection they look like wrinkled potatoes," Ardabili said. And when cupid's arrow hits the mark?
"They look very eager. They're as happy as an ice cream cone."

Watch Ardabili describe how his service works »
The third meeting for couples takes place outside the institute without supervision. If all goes well, Ardabili arranges for the families to meet and then the couple ties the knot.
"You feel good because you're serving humanity," Ardabili said.
Ardabili said that during the past 10 years his institute has had more than 50,000 applicants. More than 2,000 of his couples have married without a single divorce, he said. Ardabili gave credit to his 10-member staff that offers counseling to married couples, even sex therapy.
"We want to reduce divorce, give families a strong foundation," Ardabili said.
On his Web site, Tehran's matchmaking mullah has posted wedding pictures of some of his success stories.

Ahmad can't wait to see his picture among them.
"At this very moment I'm counting down the days."
E-mail to a friend

All About Iran • Culture and Lifestyle • Islam