BAGHDAD, Iraq (CNN) -- A Kuwaiti envoy on Thursday made his country's highest-level visit to Iraq since the Saddam Hussein government invaded the small neighboring nation in 1990, a move that prompted the U.S.-led expulsion of Iraqi forces in the Persian Gulf War.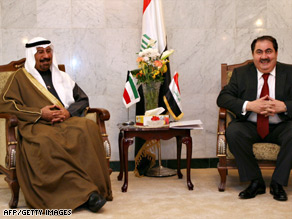 Kuwaiti Foreign Minister Sheikh Mohammed al-Sabah (left) is greeted by his Iraqi counterpart Hoshyar Zebari.
The symbolic visit was one of several international diplomatic trips this month to Iraq, a country eager to drum up foreign investment and take advantage of the nation's growing political stability, decreasing violence and business-friendly climate.
Kuwait's Sheikh Mohammed Sabah al-Salem al-Sabah -- who serves as the country's foreign minister and deputy prime minister -- said Kuwait wants to strengthen and develop ties between the two countries and congratulated Iraq for the success of the recent provincial elections, in which millions turned out to choose representatives for their local governments.
"This is Iraq which we have wagered on and we congratulate the Iraqis for this," al-Sabah said, according to Kuwait's official news agency.
"We discussed with the prime minister bilateral issues, especially as we are approaching the convening of the first meeting of the Iraqi-Kuwaiti joint committee," he said, adding that the joint committee will meet soon in Baghdad.
The Kuwaiti diplomatic delegation met with Iraqi officials, including Prime Minister Nuri al-Maliki, whose office issued a statement saying he told al-Sabah and the envoy's delegation that the Saddam Hussein regime "harmed Arab relations."
"Some Arabs still view Iraq the same way they did under Saddam, but we tell them Iraq today is built on a constitution and on democracy," al-Maliki said in the statement.
"We have confidence in the abilities of our armed forces and security forces to protect the country and consolidating security and stability, and we do not have concerns for Iraq if American forces withdraw; for we have, thank God, succeeded in getting rid of sectarianism and racism," al-Maliki said.
Also in Iraq Thursday was British Foreign Minister David Miliband, who began a two-day trip. The visits follow recent stopovers in Iraq by U.N. Secretary-General Ban Ki-moon, Iranian Foreign Minister Manouchehr Mottaki, German Foreign Minister Frank-Walter Steinmeier and French President Nicolas Sarkozy.
Britain has been the top coalition partner of the United States in Iraq. Neither Germany nor France were supporters of the 2003 U.S.-led invasion of Iraq, but they are pursuing closer relations now as U.S. President Barack Obama vows to decrease the presence of American troops there. Iran, which neighbors Iraq and shares a Shiite Muslim majority, has been working to widen economic ties with the al-Maliki government.
There also have been visits by envoys from Netherlands, Japan and the European Union.
Miliband was scheduled to meet with al-Maliki and other officials, including members of the new provincial council in the southern province of Basra, where British troops have been based since the Iraq war began nearly six years ago. His visit is focusing on trade, education and cultural ties. Human rights, the Middle East peace process and provincial elections were also on the agenda.
Iraqi officials are much concerned about the world financial downturn and its effect on Iraq's oil-dominated economy. It is hoping for foreign investment to bolster the oil industry, restore the country's battered infrastructure, and diversify the nation's economy.
Al-Maliki spoke Wednesday at a conference in Baghdad dedicated to finding alternative revenue sources in the agricultural and manufacturing sectors. He has called for plans and proposals for an economy that would promote government and private economic cooperation.
Oil revenues are about 90 percent of Iraq's budget, government officials say, but dropping oil prices have forced Iraq -- twice in recent months -- to trim a $79 billion budget projection down to $62 billion. Al-Maliki said the oil industry must be shored up because of decades of neglect in the war-battered nation and the oil revenues should be used to help develop other industries.
Iraqi Planning Minister Ali Baban said at the conference that Iraq's economy faces four challenges: reliance on oil revenues; budget imbalances and budget expenditures; the private sector's need for development; and the need to attract foreign investment.
"I'm afraid the government will reach a stage of economic recession where it can't fulfill its commitments, not to mention paying for projects and services," Baban said.
E-mail to a friend

-- CNN's Jomana Karadsheh contributed to this report.
All About Barack Obama • Iraq War • Kuwait • David Miliband