JERUSALEM (CNN) -- Days after being chosen to form the next Israeli government, Benjamin Netanyahu met with moderate party leaders in an attempt to lure them into a government under his leadership.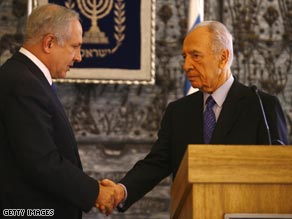 Netanyahu (left) shakes hands with Peres, who has asked him to form the next Israeli government.
Netanyahu, who heads the conservative Likud movement, made no real progress in his separate talks with Kadima party leader, Foreign Minister Tzipi Livni and Labor party leader Defense Minister Ehud Barak.
"I am not going to give up on this," Netanyahu said Monday. "I want to try and make every possible effort to form a national unity government."
Netanyahu has six weeks -- starting last Friday -- to form a coalition government which would allow him to become Israel's next prime minister.
He said he plans to meet with both party leaders again "because the great challenges that the state of Israel faces require us to put daily politics aside and to make every effort to unite the state of Israel in the face of the challenges that we are facing in this time of emergency."
Netanyahu met Sunday evening with Livni.
"This evening did not progress us on the core issues in a way that we can talk about a joint path," Livni said. She said she would agree to meet with Netanyahu again in the future.
During his Monday morning meeting with Barak, the Labor leader said he told Netanyahu that his party will be a "responsible, serious, and constructive opposition."
Don't Miss
No single party won the minimum 61 seats needed to form a government in the February 10 elections. That means Netanyahu must form a coalition of the various parties that won seats in the Knesset -- Israel's parliament -- in order to govern.
If he cannot, Israeli President Shimon Peres can either give him more time or call for new elections. There is also a possibility of a power-sharing agreement between Livni and Netanyahu, which would entail the two party leaders sharing the prime ministership.
Kadima -- the party of outgoing Prime Minister Ehud Olmert -- won 28 seats in the Knesset, the best showing. But it was only one seat more than Likud.

With the surge of other right-wing parties in this month's election, Netanyahu has enough seats to form a government but it would be a narrow coalition of the right.
He will need the cooperation of Labor or Kadima if he is to fulfill his promise "to form a broad national unity government."
E-mail to a friend

-- CNN Jerusalem Bureau Chief Kevin Flower contributed to this report.
All About Israel • Tzipi Livni • Benjamin Netanyahu