By Elise Labott
CNN State Department Producer





WASHINGTON (CNN) -- The State Department's top Middle East official will meet next week with the Syrian ambassador to the United States as part of what senior administration officials call a resumption of diplomatic dialogue with Damascus after nearly four years.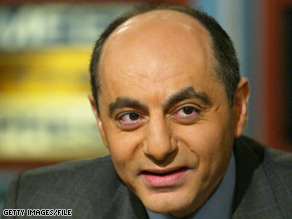 The State Department's top Middle East official will meet with Syria's U.S. ambassador, Imad Moustapha.
Jeffrey Feltman, the acting assistant secretary for the Near East, requested a meeting with Ambassador Imad Moustapha, according to State Department spokesman Gordon Duguid.
Talks will take place next week after Moustapha returns from Damascus, where he is meeting with several visiting U.S. congressional delegations, Duguid said.
"The meeting is an opportunity for dialogue to discuss our concerns with the Syrians," Duguid said. "There remain key differences between our governments."
Duguid cited Syrian support for terrorist groups, its pursuit of nuclear weapons, its interference in Lebanon and worsening human rights situation as issues Feltman will address at next week's meetings.
On Thursday, the International Atomic Energy Agency (IAEA) said in a report that the U.N. nuclear watchdog found traces of uranium from samples retrieved at a Syrian site suspected to be the location of a nuclear site.
The site was bombed by Israeli aircraft in September 2007, and Syria says the missiles that destroyed the building at the site were the source of the uranium particles, according to the report. Damascus has denied it was being used for a nuclear reactor.
Next week's talks come as the Obama administration weighs greater engagement with Damascus as well as with Iran. During her confirmation hearing last month Secretary of State Hillary Clinton said more dialogue with Syria may help Damascus become "a constructive regional actor" and benefit U.S. interests.
The first meeting with Moustapha since last September is being viewed as the start of more regular contacts between Washington and Damascus through normal diplomatic channels, senior administration officials told CNN.
The Bush administration withdrew the U.S. ambassador from Syria in 2005 following the assassination of former Lebanese Prime Minister Rafiq Hariri. Washington suspects Syrian involvement in the murder, which Damascus has denied. In lieu of an ambassador, a U.S. charge d'affaires working in the U.S. embassy holds sporadic talks with Syrian officials.
A series of congressional delegations have visited Syria in recent weeks. Sen. John Kerry, the Massachusetts Democrats who heads the Senate Foreign Relations Committee, and Sen. Benjamin Cardin, D-Maryland, visited Damascus this week. Rep. Howard Berman, D-California, chairman of the House International Relations Committee, is traveling there in the coming days.
A seven-member delegation led by Rep. Adam Smith, D-Washington, met with President Bashar al-Assad in Damascus earlier this month and discussed improving ties.
E-mail to a friend

All About Damascus • Syria • U.N.'s International Atomic Energy Agency • Barack Obama • Hillary Clinton • Bashar Assad • Israel