JERUSALEM (CNN) -- Pope Benedict XVI will visit Israel in May, outgoing Israeli Prime Minister Ehud Olmert announced Sunday.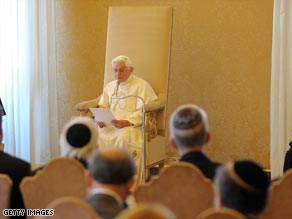 Pope Benedict XVI meets with members of an American Jewish delegation at the Vatican on Thursday.
Benedict's visit to the region has been the subject of speculation for months, but Olmert's statement at the beginning of his weekly Cabinet meeting was the first official confirmation. The pope mentioned Thursday that he was "preparing to visit Israel," but the Vatican has not officially said when the trip will take place.
Israeli President Shimon Peres will escort Benedict as he visits sites around the country, Olmert said.
"A papal visit to the Holy Land is always an exceptionally significant event, and we hope that it will be this time as well," he said.
John Paul II was the last pontiff to visit Israel in a March 2000 trip that also included stops in the Palestinian territories, including Bethlehem, which is in the West Bank. Olmert did not say where else Benedict would visit.
Olmert's announcement that Benedict will come to Israel follows on the heels of a controversy about Holocaust denial within the Roman Catholic Church.
Don't Miss
The pope last month lifted the excommunication of Bishop Richard Williamson days after the broadcast of an interview in which Williamson doubted the number of Jews killed in the Holocaust. Williamson said that no Jews were murdered in gas chambers.
Williamson's excommunication and its reversal were not related to his views on the Holocaust.
But his Holocaust denial prompted outrage from Jewish leaders, Israel, German Chancellor Angela Merkel and many others within the church.
The Vatican demanded that Williamson "distance" himself from his views and said that Benedict had not been aware of them when Williamson was welcomed back into the church.
The pope met Jewish leaders on Thursday in Rome and reiterated his position on the Nazis' Final Solution.
"The hatred and contempt for men, women and children that was manifested in the Shoah was a crime against God and against humanity," Benedict said, using the Hebrew word for the Holocaust.
E-mail to a friend

All About Israel • Pope Benedict XVI • The Holocaust