BEIRUT, Lebanon (CNN) -- Thousands gathered in downtown Beirut's Martyrs' Square on Saturday to mark the fourth anniversary of former Prime Minister Rafik Hariri's assassination, a traumatic event in the nation's post-civil war history.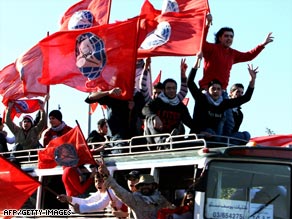 Thousands of people gathered to mark the anniversary of Rafik Hariri's assassination.
Hariri died February 14, 2005, in a powerful explosion that left a 10-foot crater in a street in downtown Beirut, unleashing massive anti-Syria protests in what became known as the Cedar Revolution.
A United Nations investigation by the Special Tribunal for Lebanon found links between Syria's government and Hariri's assassination, which led to widespread protests and eventually the withdrawal of Syrian troops from Lebanon.
On Saturday, somber words uttered from world leaders reaffirmed international commitment to Lebanon's nation-building efforts. The United States pledged additional funds to support the tribunal's efforts to find the masterminds behind Hariri's assassination.
"The United States is confident that the Special Tribunal for Lebanon will bring to justice those responsible for financing, planning, and carrying out the assassination of former Prime Minister Hariri," United States Secretary of State Hilary Rodham Clinton said in a written statement.
Don't Miss
"The United States pledges $6 million for the second year of the Tribunal's operations, subject to Congressional approval of the FY09 budget, in addition to the $14 million already contributed," she said.
United Nations Secretary-General Ban Ki-Moon said the anniversary comes two days before the new Special Tribunal takes over from the Beirut-based International Investigation Commission, the legal body which also investigated links to 20 other attacks.
Lebanon was engulfed in a sectarian civil war for 16 years (1975-91), the longest of its kind in the Middle East, pitting Lebanon's Shiite, Sunni, Druze and Alawite populations against each other.
Saturday's rally will include leaders of the March 14 Alliance, a coalition of anti-Syrian and independent parties who forged the Cedar Revolution, which prompted Syria to withdraw troops from Lebanon.
E-mail to a friend

All About Lebanon • Rafik Hariri