MOSCOW, Russia (CNN) -- Russia will assist the U.S. in the transit of non-military cargo to Afghanistan, Russian Foreign Minister Sergei Lavrov said Friday.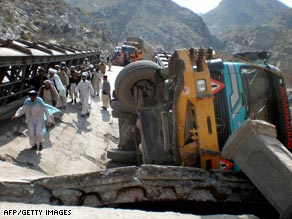 An overturned truck on the bridge in Khyber, Pakistan, destroyed by militants.
Lavrov said on Russian television that his country intends to cooperate to help get vital cargo to NATO troops in Afghanistan.
The United States had asked to transport the cargo through Russian territory to Afghanistan, Lavrov said.
In recent days, the United States has faced setbacks in its ability to resupply troops.
Kyrgyzstan decided to close a U.S. military base used as a route for troops and supplies to Afghanistan.
And Pakistan officials confirmed Friday a key bridge in Khyber was blown up Tuesday on the supply route from Peshawar to Afghanistan.
The attack suspended NATO supply lines between the countries and prompted authorities to look for alternate supply routes for supply trucks and traffic.
On Friday, a suicide attack near the same bridge injured seven people. On Wednesday, suspected militants fired rockets on NATO trucks in Khyber, one of seven semiautonomous tribal agencies along the Afghan border.

Pakistani security forces killed 52 militants Friday in the volatile region of northwestern Pakistan, authorities confirmed.
Russian leaders have recently expressed a willingness to cooperate in the fight as the U.S. military plans to send an additional 30,000 troops to Afghanistan to try to halt a resurgence of the Taliban.
E-mail to a friend

CNN's Maxim Tkachenko and Zein Basravi contributed to this report.
All About Afghanistan • Pakistan • Russia