By Bill Schneider
CNN Senior Political Analyst





JERUSALEM (CNN) -- Down to the wire. That's what the polling in Israel's election on Tuesday predicts: a tight race between Benjamin Netanyahu, former prime minister (1996-99) and leader of the conservative Likud party, and Tzipi Livni, the current foreign minister and leader of the centrist Kadimah party.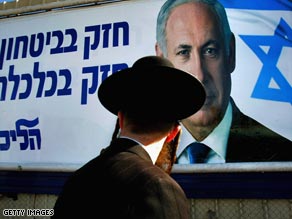 An orthodox Jewish man walks past a poster featuring Likud leader Benjamin Netanyahu.
Israelis vote for parties, and Netanyahu's Likud party has maintained a small but diminishing lead over Livni's Kadima party. By tradition, the country's president asks the leader of the largest party in the Knesset, the Israeli parlimament, to form a government.
Whoever wins will have to form a coalition government because neither Likud nor Kadima has anything close to a 60-vote majority by themselves. The latest polls show Likud getting between 25 and 27 seats, which is more than double the 12 seats Likud won in 2006. Kadima is getting 23-24 seats, down from 29 in 2006.
In fact, the polls show big gains for right-wing parties next week. Not just Likud, but also the far right party Yisrael Beiteinu ("Israel Our Home'' ), led by Avigdor Lieberman.
Lieberman's party may come in third in the election, with 18-19 seats, up from 11 in 2006. That would be a serious setback for the Labour Party led by former prime minister Ehud Barak.
Labour -- the party once led by David Ben Gurion, Golda Meir and Yitzhak Rabin -- was in danger of collapse two months ago. But Barak is currently defense minister, and his leadership of the Israel Defense Forces in Gaza has given his party a boost. Though not a big enough boost to give him victory. Labour won 19 seats in 2006. Current polls show Labour getting 13 to 17 seats this time.
There's an irony in these results. The right is gaining support, but Livni could narrowly beat out Netanyahu. That's because Lieberman is cutting into Netanyahu's lead. It's one reason why Netanyahu has been sounding a tough nationalist line in the campaign. He has to compete with Lieberman for hawkish voters.
After Gaza, Israelis have become increasingly skeptical of unilateral withdrawal. Israel withdrew from Gaza, and look what happened. Hamas gained control and began rocket attacks on Israel.
Israelis are fearful that the same thing could happen if Israel turns over portions of the West Bank. The peace camp in Israel is shrinking because the peace process has gone sour.
One of Livni's key arguments is that she will continue the peace process as prime minister. "Peace is in our interest,'' the foreign minister said. "The enforced 'choice' between peace and security is incorrect, and anyone forcing the public to choose between the two is deluding himself and the public and does not understand the world we live in.''
It's not a given, however, that a Netanyahu victory would spell doom for any peace deal. Netanyahu would most likely be more skeptical and more cautious. But he wants a legacy.
Netanyahu's one term as prime minister was widely regarded as a failure. He would feel pressure to demonstrate that he has changed and can show flexibility. The problem is how much flexibility Netanyahu could have if Lieberman is a partner in his governing coalition.
Netanyahu has said he accepts President Bush's vision for a two-state solution ("two democratic states, Israel and Palestine, living side by side in peace and security''). But Netanyahu maintains that a two-state solution requires a viable partner for peace. The West Bank has to be become economically viable before a political solution is possible.
Both Netanyahu and Livni have promised to form broad-based coalitions, most likely with Barak continuing to serve as defense minister. So what difference does it make who wins?
For one thing, it would be easier for Netanyhau to form a government. Parties of the right are likely to end up with around 65 seats, enough for a majority. The center and left parties are likely to win around 55 seats and will have more difficulty.
On the other hand, a Netanyahu victory would probably mean a different mood in Israel -- tougher rhetoric and more difficult external relations with Arab countries, Europe and the Obama Administration.
A Livni victory would signify greater continuity with the policies of her Kadima predecessors, Ariel Sharon (who founded the party) and Ehud Olmert. The difference is mainly one of mood and rhetoric. But mood and rhetoric could be a crucial difference.
E-mail to a friend