(CNN) -- CNN.com profiles the leading parties and party leaders ahead of Tuesday's Israeli elections.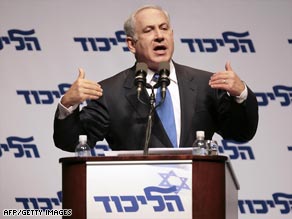 Likud leader Benjamin Netanyahu has called for Hamas to be "uprooted" from Gaza.
The Party
Since its creation in the 1970s, Likud has been the dominant political force of the Israeli right, commanding loyal support among Israel's Mizrahi community -- Jews from the Middle East and the predominantly Muslim surrounding region.
A secular nationalist party, Likud has consistently taken a hardline stance over peace negotiations with the Palestinians and in support of Jewish settlers.
It is committed to maintaining an Israel with "defensible borders," including the Golan Heights, captured from Syria in 1967, and the Jordan Valley with an undivided Jerusalem as its capital.
Current Likud leader Benjamin Netanyahu, who served as Israeli prime minister between 1996 and 1999, has said he will not withdraw settlers from the West Bank, warning that any land conceded would be "grabbed by extremists."
Don't Miss
Likud says that the long-term economic and political development of Palestinian Authority territory is necessary before a permanent diplomatic settlement can be reached.
Netanyahu has also led a push for increased Western financial and economic sanctions against Iran, which he accuses of backing Hamas in Gaza.
Likud won 12 seats in the 2006 Knesset. But the party is expected to improve on that performance this year, with polls indicating a swing to the right with Israeli voters concern over security issues playing a dominant role.
The Leader
A former soldier in an elite Israeli military unit, Netanyahu has been among his country's most hawkish politicians of the past few decades.
Elected to the Knesset in 1988, he rose to the Likud leadership in 1993, succeeding Yitzhak Shamir, and forging his reputation as a vocal opponent of the 1993 Israeli-Palestinian peace accords and the resulting withdrawals from the West Bank and Gaza.
Following the assassination of Yitzhak Rabin and a series of suicide bombings, in 1996 Netanyahu was elected prime minister, the youngest man or woman ever to hold the post.
But his premiership was dominated by unrest; relations with Syria deteriorated and his decision to open an ancient tunnel near Al-Aksa Mosque in Jerusalem angered Palestinians and sparked intense fighting.
Meanwhile, under international pressure, Netanyahu reversed his previous opposition to the 1993 peace accords and agreed to withdraw troops from most of the West Bank town of Hebron.
Talks with Palestinian leader Yasser Arafat in 1998 resulted in the Wye Memorandum, which placed 40 percent of the West Bank under Palestinian control. But the agreement was opposed by Netanyahu's former supporters on the right, resulting in the collapse of his governing coalition. In elections in 1999, he was defeated by Labor Party leader Ehud Barak.
Netanhayu resigned from Ariel Sharon's government in 2005 because he disagreed with Sharon's Gaza disengagement plan which called for the removal of all Israeli settlers from the Palestinian territory.
But he returned to the Likud leadership later that year following Sharon's break with the party to form Kadima. As party leader he has promised "strong leadership for Israel's security and economy." He has called for the Hamas regime in Gaza to be "uprooted" and says last month's military campaign was ended too soon.
E-mail to a friend

All About Israel • Tzipi Livni • Ehud Barak • Benjamin Netanyahu