(CNN) -- CNN.com profiles the leading parties and party leaders ahead of Tuesday's Israeli elections.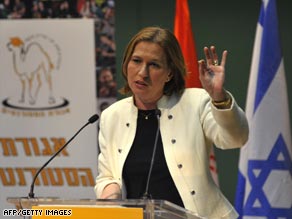 Tzipi Livni is campaigning for the chance to be Israel's first female prime minister since Golda Meir.
The Party
Founded in 2005 as a personal vehicle for the political vision of former prime minister Ariel Sharon, Kadima is a new force at the center of Israeli politics.
Following Sharon's stroke in early 2006, the party won 29 seats in that year's election under the leadership of Ehud Olmert, who subsequently became prime minister as head of a broad coalition also including the Labour Party and the ultra-orthodox Shas party.
Embroiled in corruption scandals and criticized over Israel's controversial military action against Hezbollah militants in southern Lebanon, Olmert was forced to quit in September 2008, clearing the way for former foreign minister Tzipi Livni to become party leader. But she was unable to hold the ruling coalition together, leading to this month's elections.
Ideologically, Kadima has attempted to steer a middle path between traditionally leftist Labour and conservative Likud.
The party is committed to a two-state settlement with the Palestinians that would involve the redrawing of Israel's current boundaries to guarantee a future Jewish majority. But it also maintains that Jerusalem and major settlements in the West Bank should remain in Israeli hands.
But Kadima leaders have not shirked from flexing Israeli military muscle. In 2006 Olmert was roundly criticized for what many considered Israel's botched military assault against Hezbollah militants based in southern Lebanon.
In late December, Israeli forces launched a 22-day air and ground war against Hamas militants in Gaza who were shooting missiles into Israel.
Winning 29 seats in the 2006 election, Kadima is currently the largest party in the Knesset.
The Leader
A former agent for the Israeli intelligence agency Mossad and the daughter of militant Zionists, Tzipi Livni's political career has been more pragmatic than her background would suggest.
A lawyer by training, Livni, now 50, was elected to the Knesset for the rightwing Likud party in 1999, rising through the ministerial ranks under Ariel Sharon's premiership and acquiring a reputation as a moderate.
She was a key player during Israel's withdrawal from Gaza in 2005 and followed Sharon when he broke away from Likud to form Kadima in 2005.
Under Ehud Olmert, she served as foreign minister, advocating talks with Palestinian leaders and a two-state peace settlement.
But she became an outspoken critic of Olmert following the bungled military campaign against Hezbollah militants in southern Lebanon in 2006, and called for his resignation following the publication of a critical report into his conduct during the war.
Following Olmert's resignation as party leader in September 2008, Livni appeared on the verge of becoming Israel's first female prime minister since Golda Meir.
But with Livni unable to form a coalition, instead she asked Israeli President Shimon Peres to call this month's early elections.
E-mail to a friend

All About Israel • Tzipi Livni • Ehud Barak • Benjamin Netanyahu