From Ben Wedeman
CNN





JERUSALEM (CNN) -- He has been called the raging bull of Israeli politics.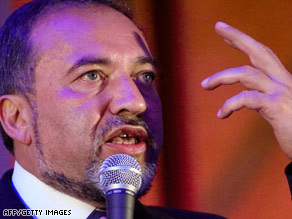 Lieberman at a campaign rally in Kyriat Mozkin, Israel, on Thursday.
A former bouncer, Avigdor Lieberman is the founder and leader of the right-wing Yisrael Beiteinu party which has always maintained a hardline stance.
Lieberman, 50, is a polarizing figure whose party has been accused of racism against Palestinians and Arab citizens of Israel.
But the recent Israel-Gaza war has boosted the party's stance with Israelis, according to polls and political analysts.
"Lieberman is riding an ugly wave of resentment among many Jewish Israelis toward the Arab-Israeli minority," said Yossi Klein Halevy of the Adelson Institute of Strategic Studies.
Recent opinion polls indicate that Lieberman's party could gain up to six more seats in the next parliament, or Knesset, when Israelis head to the polls on February 10. That could give Yisrael Beiteinu a total of 17 seats, which would overtake Ehud Barak's Labor Party as the third largest faction in the legislature.
Kadima Party, led by Foreign Minister Tzipi Livni, holds the most seats in the current parliament followed by Benjamin Netanyahu's Likud Party.
If Lieberman's party surpasses Labor in the upcoming elections, it would be unprecedented, Arik Ben-Zvi wrote in The New Republic journal.
"For a party of the extreme right to surpass Labor -- the founding party of the state, the party of Ben Gurion, Golda (Meir), and (Yitzak) Rabin -- would mark a historic shift," he wrote.
According to Ynetnews.com political correspondent Attila Somfalvi, Lieberman has become "the leader of those who lost any hope or faith in the possibility of securing peace or engaging in talks with the Arabs."
"The war in Gaza indeed restored the public's sense of security and lowered the anxiety level, yet Lieberman is perceived as the man who will know how to do what needs to be done so that no more missiles land around here," she wrote.
Israel launched a massive military operation on December 27 that it said was an effort to target the Hamas militant group, which rules Gaza, in an effort to halt rocket attacks on southern Israel.
While Israel maintains that it achieved its military goals during the three-week operation, militants in Gaza have continued to fire rockets and mortars on southern Israel since the operation concluded.
Lieberman's supporters credit him with offering clear solutions to Israel's complicated problems. But his campaign slogan, "Without loyalty, there is no citizenship," raises questions about the status of Palestinians with Israeli citizenship who make up about 20 percent of the population.
Lieberman, who migrated from the former Soviet Union to Israel in 1978, has called for Israel's boundaries to be redrawn to exclude much of Israel's Arab minority -- a move that would strip them of their citizenship.
He frequently clashes with Arab members of the Knesset, and has called for them to be tried and executed for meeting with leaders of Hezbollah and Hamas.
He wants all Knesset members -- both Arabs and Jews -- to prove their loyalty by swearing allegiance to the Israeli flag and national anthem.
Arab Knesset member Ahmed Tibi has warned that Lieberman's rising popularity reflects a dangerous trend.
"We are talking about a pure and obvious fascist phenomena invading the Israeli society," Tibi said. "During the last years, racism became mainstream in the Israeli society."

But former Israeli diplomat Danny Ayalon, who is running on the Yisrael Beiteinu list, denied the party was racist and insisted that Arabs can be equal citizens in Israel -- with one important condition.
"It's not that we are precluding anyone from living here, but they should accept the idea of Israel as a Jewish state and then they are very welcome to live with us," Ayalon said.
E-mail to a friend

All About Gaza • Israel • Israeli Defense Forces