(CNN) -- Palestinian Authority President Mahmoud Abbas said Wednesday the time has come for the international community to bear its "legal, political and moral responsibilities" in order to reach peace in the Middle East.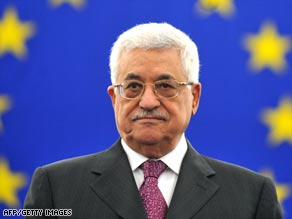 Palestinian Authority President Mahmoud Abbas wants Europe to play a bigger role in the Middle East.
Abbas told the European Parliament in Strasbourg, France, that he wants Europe to play a larger political role in the Middle East, especially after the recent fighting in Gaza between Israel and Hamas, the ruling party in Gaza.
"Until when will Israel remain freehanded to destroy the assets and infrastructure of our people?" Abbas asked. "The international community must prevent the repetition of those past events and also call on Israel to stop its destructive policies."
Abbas pointed out that some of the infrastructure destroyed during the three weeks of fighting was paid for by Europe.
"We must not deal with Israel as if it is a state above accountability, above international law," Abbas said to applause from European Parliament members.
Abbas heads the Palestinian Authority, which holds power in the West Bank. He said he seeks a government of national reconciliation with Hamas so the two sides can work together for the Palestinian people, who are now split both geographically and politically.
Asked later what Hamas would think of a unity government, Abbas said they would support it.
"The national interest of Hamas is to achieve Palestinian national unity," he said. "The interest does not lie in a homeland in two parts."
Hans-Gert Poettering, president of the European Parliament, said Europe wants to help both Israel and the Palestinians achieve peace.
"This mustn't be just a vision -- it must become reality," Poettering said. "It must become reality within our generation, and if we want that, we can achieve it."
E-mail to a friend