BEIRUT, Lebanon (CNN) -- Hezbollah leader Hassan Nasrallah said the administration of former President George W. Bush worked with its Arab allies to try and change the "realities" in Gaza before Barack Obama took office.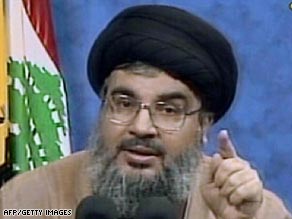 Nasrallah says Bush administration worked with its Arab allies to "change the realities" in Gaza.
In a wide-ranging speech on Thursday marking "Freedom Day" -- a celebration of the release of Hezbollah prisoners from Israeli custody -- Nasrallah said the Bush administration worked with its Arab allies "in order to take advantage of the short time of Bush's term and before (Barack) Obama takes office in order to change the realities" in Gaza.
There were no U.S. forces involved in the 22-day Israeli military operation in Gaza; the United States is a key supporter of Israel.
Israel launched the operation on December 27 with the stated aim of ending rocket attacks on southern Israel. Last week, both Israel and Gaza's Hamas leadership agreed to a temporary cease-fire that took effect after Israeli forces withdrew from the Palestinian territory.
Hamas claimed victory, saying it was not weakened by the Israeli military operation. Nasrallah's speech seemed to build on that claim of victory by reminding Israel that Hezbollah -- which is based in Lebanon -- still has its own list of demands from the Jewish state.
"I would like to take this opportunity to remind everyone that there are still Palestinian, Syrian, Jordanian and other Arab prisoners and especially the prisoners who were from Jerusalem and the Arabs of 1948 who are suffering under very tough conditions," Nasrallah said. "This issue should always be present in the hearts and minds and the responsibilities of this nation."
He also said that DNA tests have shown that four "martyrs" whose remains were requested in a prisoner swap with Israeli last July were not handed over.
Don't Miss
"Therefore we consider these DNA for other unknown martyrs and we can't determine who they are," Nasrallah said.
Further tests will be conducted in France, he said, but that will take "a long time."
Last July, Israel agreed to exchange the remains and release Samir Kuntar -- who is considered the perpetrator of one of the cruelest killings in Israeli history -- in exchange for the bodies of two soldiers who had been abducted by Hezbollah in 2006.
Hezbollah cast the swap as a victory for all Lebanese, with one official calling it "an official admission of defeat."
In his speech on Thursday, Nasrallah said Hezbollah had asked for the remains of Dalal Mughrabi -- a female militant -- Yahya Skaff and two of their companions. They allegedly took part in the March 1978 "Coastal Road massacre" in which Palestinian militants hijacked a bus near Tel Aviv, killing more than 30 Israelis and Americans.

It was not clear if Skaff was still alive, Nasrallah said. The Hezbollah leader said he holds Israel responsible for "hundreds" of missing Lebanese and Palestinians, believed to either have been killed or held by Israel.
Nasrallah also restated Hezbollah's accusation that Israel was responsible for the assassination of top Hezbollah military commander, Imad Mughniyeh, last August in Damascus, Syria. Israel has denied any role in the killing.
E-mail to a friend

-- CNN's Saad Abedine contributed to this report.
All About Barack Obama • Middle East • Israel • Hamas