(CNN) -- Special provincial elections began Wednesday morning in Iraq, a precursor to the monumental elections that will be held this weekend in the country.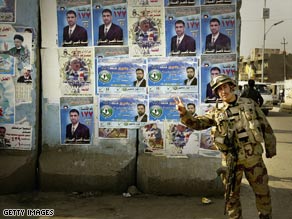 An Iraqi soldier stands next to elections posters on January 27, 2009, in Baghdad.
The special voting day allows Iraqi security forces, detainees and hospital patients to cast ballots in the provincial elections.
On Saturday, millions of people are expected to go to the polls, with 14,000 candidates competing for 440 provincial council seats.
As they will on Saturday, polls opened at 7 a.m. Wednesday and were to close at 5 p.m. The provincial vote is viewed as a key vote for the country, because Iraqis have not voted since 2005.
The polls will be held in 14 of 18 provinces. More than 600,000 people are expected to vote in the special election Wednesday, Iraqi election officials said.
Security forces across the country will be on high alert during the voting, Iraqi authorities said.
Maj. Gen. Ayden Khaled, deputy interior minister, said that, from 10 p.m. Friday to 5 a.m. Sunday, Iraq's borders will be closed, all airports will be shut, and travel will not be allowed between provinces.
Only people on foot will be allowed to move freely on election day.
E-mail to a friend

All About Iraq