From Jomana Karadsheh
CNN






BAGHDAD, Iraq (CNN) -- Explosives attached to trucks carrying concrete barriers to makeshift polling stations for next week's Iraqi provincial elections exploded and killed a driver, an Iraqi Interior Ministry official said Friday.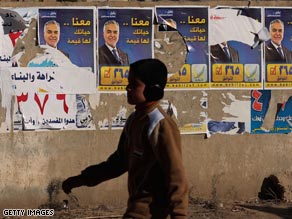 An Iraqi boy passes election posters Friday in Babil province. Provincial elections are set for January 31.
The Thursday night strike reflects an uptick in political violence ahead of the January 31 elections, seen as a major step toward national reconciliation in the diverse and war-torn Middle Eastern country.
Iraqi, U.S. and U.N. officials have geared up for election-related violence, and at least two candidates for local councils have been killed in the past few weeks.
However, authorities are optimistic that chaos and instability will be kept in check for this balloting and national elections later in the year.
"There obviously have been some attacks," said Ryan Crocker, U.S. ambassador to Iraq.
"If they go through these elections in good order, I think that's going to give them a lot of confidence to approach the national elections," Crocker told reporters Thursday.
The Interior Ministry official said the 10 trucks were carrying the barriers to schools that will be turned into polling stations in the Diyala provincial capital of Baquba. The vehicles were targeted northeast of the city.
Don't Miss
Four so-called "sticky bombs" attached to the trucks detonated when the convoy stopped at a police checkpoint Thursday night in Saadiyya. Another driver was wounded in the attack.
Militants used magnets or adhesives to attach the bombs to vehicles without the driver's knowledge.
The election of provincial councils will take place in 14 of Iraq's 18 provinces. More than 14,000 candidates from more than 400 political entities will participate.

Watch what risks Iraqis are taking to invest in the country »
The elections have been postponed in Tameem province because of political differences among Kurds, Arabs and Turkmens over Kirkuk, and they will be staged in the three autonomous Kurdish provinces at another time.
There was another violent incident in Diyala province Thursday night, but it was apparently not related to political or sectarian tensions.
Gunmen shot and killed nine members of one family near Balad Ruz, security officials said.

The attackers broke into a home and killed six women, two men and a child.
A senior Balad Ruz official said he believed members of the family were involved in prostitution and that activity led to the killings.
E-mail to a friend

All About Ryan Crocker • Diyala Province • Iraq