BAGHDAD, Iraq (CNN) -- The U.S. ambassador to Iraq on Thursday warned against an abrupt American military departure from Iraq, saying "a precipitous withdrawal" could run severe risks.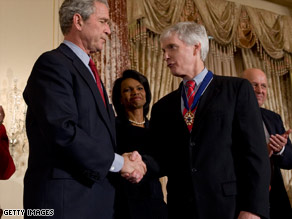 Ryan Crocker, U.S. ambassador to Iraq, here with ex-President Bush, talked this week with President Obama.
"Al Qaeda is incredibly tenacious," Ryan Crocker said of the Sunni insurgent group. "They will have to be killed or captured, and as long as they hang on, they are looking for the opportunity to regenerate."
He added, "[If] we were to decide suddenly we're done, they would certainly work to use space that opened up to do just that. I think it would encourage neighbors with less than benign intentions to carry them out, and perhaps most importantly I think it would have a chilling effect on Iraqis."
The comments came one day after Crocker and Gen. Ray Odierno, head of U.S. forces in Iraq, spoke via teleconference with President Obama and other top military brass in Washington.

Watch a report on President Obama's first meeting with U.S. military commanders »
"The meeting was productive and I very much appreciated receiving assessments from these experienced and dedicated individuals," the president said afterward. "During the discussion, I asked the military leadership to engage in additional planning necessary to execute a responsible military drawdown from Iraq."
U.S. troops in Iraq are expected to depart in the coming months and years. Obama has called for a responsible and phased 16-month withdrawal of combat troops from Iraq, leaving only a residual force.
The U.S.-Iraq security pact signed last year calls for the withdrawal of combat troops from population centers later this year and the removal of all U.S. troops at the end of 2011. There are more than 140,000 American troops in Iraq.
Defense Secretary Robert Gates and Adm. Mike Mullen, the Joint Chiefs of Staff chairman, also attended the national security meeting with Obama.
Gates called the meeting about Iraq withdrawal plans the "beginning of a process" to evaluate options.
"I think our obligation is to give the president a range of options and the risks associated with each of those options. And he will make the decision," Gates said.
"He has said that he wants it to be a responsible drawdown. He has said that before he makes a decision he wants to talk to the military commanders and the chiefs and get their independent views."
Gates said Obama wants to put more emphasis on Afghanistan, though "no final decision has been made" on how many forces might go there this year.
"Part of what the president made clear was that they intend to look at Iraq and Afghanistan holistically. One of the things that the president will expect before making decisions is what the implications are, not just for Iraq, but for Afghanistan," he said.
"It is clear that -- that the threat to the homeland is -- to this country, is focused in the Afghan theater on both sides of the Pakistani -- the Afghan-Pakistani border."
Mullen said provincial elections on January 31 will be a "big indicator" of how conditions play out there.
Crocker's press briefing Thursday was his last as ambassador. After spending almost two years in Iraq, he will be leaving in two to three weeks, going ahead with his previously announced plan of stepping down.
Crocker spoke of the progress within Iraq during his tenure, such as the drop in violence and political progress.
"Taking a look back at when I arrived here in March 2007 and how it looked and felt then, [there's been] a really remarkable transition within Iraq itself," he said.
"Neither the Iraqis nor we can take our eye off that ball, because as we tragically have seen, there are still elements out there, particularly al Qaeda, capable of delivering devastating attacks," he said.
Iraqi government spokesman Ali al-Dabbagh said Wednesday that Iraq is "not worried" about a U.S. military withdrawal from Iraq before 2011 as long as it is "responsible, not sudden" and "does not undermine the improvements in the security situation."
Citing al-Dabbagh's statement, Crocker said the Iraqis were worried about a hasty withdrawal.
While Iraqi security forces have made "enormous" progress over the last two years, they still need U.S. support, Crocker said.
"Iraq is a far more stable place than it was 18 or 24 months ago, but there is still a ways to go, and clearly I think still a continuing need for our security support," he said.
He also warned of other problems, such as the push and pull between the federal government and the local communities, tensions between Kurds and Arabs, disagreements over disputed territories and long-standing corruption and rule of law problems in government.
Crocker, who called Prime Minister Nuri al-Maliki "a man of courage," said criticism of the Iraqi leader as a dictator was overblown. He added that al-Maliki has presided over the period in which Iraq has forged military, economic and political gains.

As for the economy, Crocker said projections show a "significant deficit" for 2009. He said there have been previous surpluses that should make up for any deficit.
"The real question is what happens if oil remains depressed going into 2010 and beyond."
E-mail to a friend

CNN's Jomana Karadsheh contributed to this report.
All About Barack Obama • Ryan Crocker • Iraq • Afghanistan