BAGHDAD, Iraq (CNN) -- Three bombings killed an Iraqi official and three police officers and wounded 14 other Iraqis on Sunday evening and Monday morning, according to an official with the Iraqi Interior Ministry.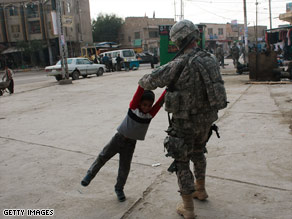 A U.S. soldier plays with a boy Monday while on patrol in Babil province, Iraq.
An Iraqi police captain was killed when a bomb attached under his vehicle exploded as he drove to work Monday morning in Baghdad, the Interior Ministry official said.
Seven people, including three Iraqi soldiers, were wounded by the "sticky bomb" blast, which happened as the captain drove to a checkpoint in eastern Baghdad's Zafaraniya neighborhood.
The military refers to bombs attached to vehicles without the driver's knowledge as "sticky bombs."
The deputy head of the Iraqi National Dialogue Front was killed Sunday evening by a suicide bomb blast in the town of Al-Qaiyara, south of Mosul, according to Mosul police.
The bomber entered Sheikh Hassan Zaidan al-Luhaibi's guest house and detonated an explosives vest, killing the sheikh and two other police officers, police said.
Another bomb blast on Sunday evening wounded seven people who were putting up campaign posters and banners for candidates along Palestine Street in eastern Baghdad, the official said.
The people were campaigning for candidates in Iraq's provincial council elections set for January 31, the official said.
E-mail to a friend

CNN's Mohammed Tawfeeq and Jomana Karadsheh contributed to this report.