GAZA CITY (CNN) -- Egypt, which has hosted peace talks with leaders from Israel and the Palestinian Authority and has acted as an intermediary between Hamas and Israel, wants to hold a summit in Kuwait on Sunday, the eve of previously scheduled Arab economic summit there.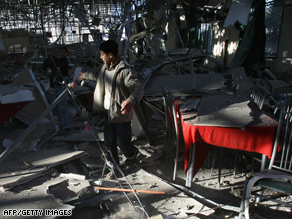 A young Palestinian stands amid a wedding hall destroyed during Israeli strikes in Gaza City.
Other Arab nations say they are attending an emergency meeting in Qatar, which has tried to take the lead in crafting an agreement between Israel and Hamas.
For its part, Hamas is frustrated with the diplomatic tug-of-war.
"We believed that the Arab summit was supposed to be held earlier," Hamas spokesman Mohammed Nizal said Wednesday. "Is it possible to get into the third week of this Zionist aggression against Gaza and the Arabs can't hold a summit for Gaza and to stop this aggression?"
This issue has split the Arab nations into two camps -- those, like Egypt, who want an end to Hamas' political influence, and others, like Qatar, who are more sympathetic to the organization, which rules Gaza.
"What is happening in Gaza calls for a separate summit because of the blood that is being shed -- our Palestinian brothers are in very difficult circumstances," said Qatar's Prime Minister Hamad bin Jassim.
Separately, Bolivia and Venezuela announced Wednesday they are breaking diplomatic relations with Israel over the conflict in Gaza.
Venezuela's announcement came a week after it expelled Israel's ambassador and accused Israel of attempting to carry out "genocide" against the Palestinian people.
Bolivian President Evo Morales said his government will ask that Israeli President Shimon Peres and Prime Minister Ehud Olmert be declared war criminals.
Meanwhile, U.N. Secretary-General Ban Ki-moon -- who has repeatedly called for a halt in the fighting -- headed to Jerusalem on Thursday after meeting with Egyptian President Hosni Mubarak in the first of several days of talks around the region. Both Israel and Hamas, which has been firing rockets into cities in southern Israel, have ignored a U.N. resolution demanding an immediate cease-fire.

Watch who may be responsible for the rockets »
Ban is also scheduled to meet with Arab League leader Amr Moussa while in Cairo, Egypt, before heading to Jerusalem to meet with Israeli leaders. Israel has designated Hamas, which refuses to recognize Israel's right to exist, a terrorist organization and has refused to enter direct talks with the group.
More than 1,000 Palestinians have been killed and nearly 5,000 wounded since the conflict began December 27, Palestinian officials said Wednesday. Israel said 10 of its soldiers and three civilians have been killed and more than 100 soldiers have been wounded.

Watch Israeli pilot describe efforts to protect civilians »
Israel's U.N. Ambassador Gabriela Shalev defended Israel's actions at a U.N. Security Council debate on the conflict Wednesday, saying Israel has no choice but to defend itself against Hamas.
Don't Miss
"Evidence against Hamas abounds. Hamas terrorists launched rockets from school yards and rigged Palestinian schools with explosives as booby-traps," she said, accusing the militants of setting up shop in Gaza's largest hospital and exploiting Palestinian civilians.
"Hamas' despicable and cynical use of targeting civilians is an appalling example of the toll terrorism takes on all civilians," Shalev said.
Hamas is open to a cease-fire deal with Israel, but only if the Jewish state withdraws its forces from the Palestinian territory, according to Salah Bardwil, a spokesman for the Hamas Palestinian Legislative Council.
"We are seeking all efforts to end the aggression and lift the blockade," Bardwil said. "We will not accept anything less than an immediate end to the aggression, the withdrawal of the troops, opening the crossings and lifting the blockade."
"All crossings need to be opened and the siege must end."
The Hamas spokesman said his delegation is still considering an Egyptian initiative for a cease-fire.
"We submitted our suggestions after we discussed it back and forth with the brothers in the Egyptian leadership and we hope that this will lead to success, God willing," he said.
Israeli government spokesman Mark Regev told CNN that he does not believe Hamas is interested in a lasting truce.
"Hamas is under a lot of pressure and they would like nothing more than a time-out just to rearm, regroup and prepare for the next round," Regev told CNN. "And that's not the sort of cease-fire Israel will agree to."

Elsewhere, Boliva broke diplomatic relations with Israel on Wednesday over its incursion into Gaza, President Evo Morales announced, saying his government wanted to declare Israeli President Shimon Peres and Prime Minister Ehud Olmert as war criminals.
There was no immediate reaction from the Israeli government.
E-mail to a friend