BAGHDAD, Iraq (CNN) -- One of Iraq's two vice presidents raised concerns over President-elect Barack Obama's "silence" on Gaza during a meeting with U.S. Vice President-elect Joe Biden on Tuesday.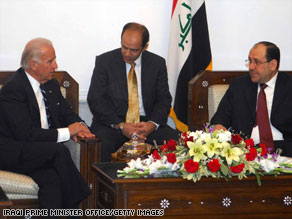 Vice President-elect Joe Biden meets with Iraqi officials, including Prime Minister Nuri al-Maliki, in Baghdad.
"The new administration's reputation is on the line because of President-elect Obama's silence," Tariq al-Hashimi said in a statement issued by his office.
Accompanied by U.S. Sen. Lindsey Graham, R-South Carolina, Biden met with President Jalal Talabani and Shiite Vice President Adel Abdel Mehdi on Monday, and with Prime Minister Nuri al-Maliki and al-Hashimi in Baghdad on Tuesday.
Speaking as Iraq's Sunni vice president, al-Hashimi stressed that Iraqis want change and fairness in the Obama administration's foreign policy.
Al-Hashimi said he also expressed concern over "crimes committed against the Palestinian people" in his meeting with Biden.
"The president-elect's silence over the tragedies Palestinians are facing in Gaza will hurt U.S. interests; therefore, the new administration must be urged to intervene and force Israel to abide by U.N. Security Council Resolution 1860 and stop its aggression on Gaza."
The men also discussed the political process in Iraq and the implementation of the U.S. troop withdrawal from that country.
Al-Hashimi also noted Obama's strong condemnation of the attacks in the Indian city of Mumbai in November. He has been criticized by some for what is perceived as his relative quiet on the violence in Gaza.
"When you see civilians, whether Palestinian or Israeli, harmed, under hardship, it's heartbreaking," Obama said in a TV interview. "What that does is it makes me much more determined to try to break a deadlock that has gone on for decades now.
The president-elect said he believes in "the principle of one president at a time" when it comes to foreign policy, insisting "we cannot have two administrations at the same time simultaneously sending signals in a volatile situation."
Biden also met with Iraqi leaders in the disputed and oil-rich city of Kirkuk in northern Iraq, where Arabs, Turkmen and Kurds are jockeying for power.
Al-Maliki's office issued a statement saying that he and Biden discussed developing U.S.-Iraqi bilateral relations.
"We achieved a lot in 2008 in terms of building the armed forces, imposing the law and eradicating terrorists and outlaws. In 2009, our army will be [more] ready to bear its responsibilities and reduce reliance on U.S. forces," al-Maliki's statement said.
It said that Biden "stressed the importance of continuing cooperation and coordination to implement the agreement for the withdrawal of foreign troops signed between the two countries."
Violence continued in Iraq on Tuesday as Biden conducted his meetings.
At least 15 Iraqis were wounded in Sunni districts in Baghdad: eight in a roadside bombing in the Dora district and seven by mortars in Adhamiya.
E-mail to a friend

All About Iraq • Tariq al-Hashimi • Joseph Biden • Gaza