GAZA CITY, Gaza (CNN) -- Israel continued its offensive in Gaza on Friday, hitting more than 70 targets, despite the U.N. Security Council's call for an immediate cease-fire.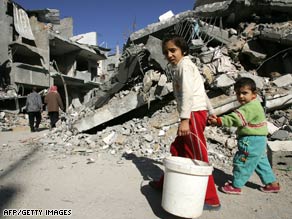 Children walk past rubble left by an Israeli airstrike Friday in the Jabalya refugee camp in Gaza.
Prime Minister Ehud Olmert said Israel was disregarding the U.N. vote because the resolution will not be heeded by "murderous" Palestinian groups. The firing of rockets from Gaza into southern Israel on Friday, he said, "proves the U.N. resolution is not practical."
"The state of Israel has never agreed that any outside body would determine its right to defend the security of its citizens. The [Israel Defense Forces] will continue operations in order to defend Israeli citizens and will carry out the missions with which it has been assigned in the operation," Olmert said.
The Cabinet also decided to continue humanitarian activity in Gaza and keep up efforts "to prevent the smuggling of war materiel into the Gaza Strip."
The Cabinet was briefed on meetings that Israeli Maj. Gen. Amos Gilad had with Egyptian officials over a proposed Egyptian-French truce plan.
Hamas also rejected the resolution, the Paris, France, daily newspaper Le Figaro reported.
The resolution "does not serve our interests nor that of the people of Palestine," said Hamas official Raafat Morra, speaking from Lebanon. "It does not take into account the aspirations and the principal objectives of the Palestinian people."
At least 792 Palestinians have been killed since Israel began its air and ground assault, a U.N. official said, citing numbers from the Palestinian Health Ministry.

See images from the offensive »
The official said the Health Ministry is reporting that about 3,200 Palestinians have been wounded in the past two weeks.
Thirteen Israelis, including 10 soldiers, have also have so far been killed, IDF said. One soldier was moderately wounded and two others were lightly wounded during the day, but no deaths were reported Friday.
Israel has repeatedly defended its offensive, which it says is meant to stop Hamas militants from continuing to use the territory to lob rockets into southern Israel.
The Security Council called overwhelmingly for an immediate cease-fire in Gaza late Thursday, expressing "grave concern" at a mounting humanitarian crisis and heavy civilian casualties in the Palestinian territory.
Fourteen of the council's 15 members voted in favor of Resolution 1860, with U.S. Secretary of State Condoleezza Rice abstaining from the vote on behalf of the United States. Rice said the United States prefers to wait on the results of ongoing Egyptian-brokered talks in Cairo between Israeli and Palestinian leaders.

Watch why U.S. abstained from Security Council vote »
The resolution "stresses the urgency of, and calls for, an immediate, durable and fully respected cease-fire which will lead to the full withdrawal of Israeli forces from Gaza."
Although the resolution does not mention Hamas by name, it does condemn "all violence and hostilities directed against civilians and all acts of terrorism."
A resolution from the council, particularly one that passes with such large support, can put international pressure on parties involved in a conflict. But they are in no way binding, and many in the past have been ignored by warring factions.
The IDF said aircraft attacked more than 70 targets in Gaza identified as terrorist sites as Israel's offensive against Hamas stretched into its 14th day.

Watch an ambassador denounce Hamas attacks »
The IDF said its ground forces found a "rigged house containing a number of land mines" and struck "terror operatives who fired anti-tank rockets at them."
"In addition, the house used by terrorists that shot and killed Sgt. Amit Robinson yesterday was shot at by IDF forces today," the military said. The 70 targets included 20 "terror operatives," rocket launching areas, three houses of Hamas operatives that had been used to store weapons, two weapons smuggling tunnels and "a vehicle with armed terror operatives."
Israel said that its naval forces hit "at least ten armed terror operatives" Thursday night and "they continued assisting the ground forces throughout the night."
One location hit by Israeli missiles was a house in northern Gaza where six people were killed early Friday, the Ramattan News Agency in Gaza City reported.
In another attack, Israeli helicopters obliterated the house of a Hamas military commander in northern Gaza City on Friday, sources in the Hamas movement said.
Aqsa TV identified the man as Abu Farouk Dababesh. The Hamas sources said Dababesh's house was among 15 houses targeted by Israel on Friday.
Palestinian medical sources said 22 Palestinians were killed Friday.
The IDF said its missiles hit five Gaza sites where Hamas was launching rockets into Israel Friday morning, including one that was adjacent to a mosque.
The Israeli military said more than 30 rockets from Gaza landed in southern Israel on Friday, including two Grad missiles that fell on Beer Sheva. Two rockets hit Ashkelon and one landed at Ashdod. No damage or injuries were reported, the IDF said.
Israel took steps before Friday prayers to head off any possible violence in Jerusalem. West Bank entries into Israel have been halted through Saturday night and men younger than 50 were banned from entering Jerusalem mosques.
Also Friday, the U.N. said it would resume its suspended aid operations in Gaza.

The U.N. Relief and Works Agency for Palestine Refugees suspended food delivery operations Thursday to 750,000 Palestinian refugees after strikes by Israel killed one of its drivers and wounded another. The U.N. said the aid workers "had received Israeli clearance."
U.N. officials attended a high-level meeting at the Israeli Defense Ministry in Tel Aviv on Friday. There, "the U.N. received credible assurances that the security of U.N. personnel, installations and humanitarian operations would be fully respected," a U.N. statement said.
E-mail to a friend

All About Hamas • Israel • Gaza • United Nations