(CNN) -- Palestinian Authority President Mahmoud Abbas and Spain's prime minister on Thursday hailed a cease-fire proposal as the best way to end the fighting between Israel and Hamas militants in Gaza.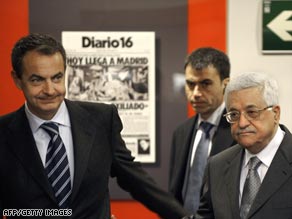 Spanish Prime Minister Jose Luis Rodriguez Zapatero and Palestinian Authority President Mahmoud Abbas.
"We believe that the Egyptian-French initiative is important to reach a cease-fire and we hope that it will work on the ground," Abbas said at a joint news conference with Spanish Prime Minister Jose Luis Rodriguez Zapatero. "We don't want a temporary peace, we want a lasting peace."
Zapatero also expressed his support for the Egyptian and French-brokered deal, which he said will hopefully alleviate the suffering in the region.
He also voiced his "deepest rejection of the situation taking so many innocent lives."
"We will see how unjust and useless these losses are," Zapatero said.
Meanwhile Pope Benedict XVI Thursday condemned the violence in Gaza, saying military options were no solution.
"This situation further complicates the quest for a settlement of the conflict between Israelis and Palestinians, something fervently desired by many of them and by the whole world," the pope said. "Once again I would repeat that military options are no solution and that violence, wherever it comes from and whatever form it takes, must be firmly condemned."
The Israeli military operation in Gaza has killed at least 680 people and wounded over 3,000 others since it was launched on December 27, Palestinian medical sources said Wednesday.
Don't Miss
Nearly a third of the deaths -- 30 percent -- are women and children, according to the U.N.'s Office for the Coordination of Humanitarian Affairs (OCHA), citing statistics released Tuesday by the Palestinian Ministry of Health.
Hamas rockets have killed four Israelis -- three civilians and one soldier -- while six Israeli soldiers have been killed in the military operation in Gaza aimed at stopping those rocket attacks on southern Israel.
Abbas said he will travel to Cairo on Friday to discuss the cease-fire plan, at the urging of Egyptian President Hosni Mubarak. Israeli and Hamas representatives are also in Cairo to discuss the proposal, but Abbas said it was unclear who he would meet with once he arrives.
Abbas, who arrived in Madrid from New York, met Thursday with Zapatero and Spain's Foreign Minister Miguel Angel Moratinos. Abbas was also to meet with Spain's King Juan Carlos, who on Tuesday called for an immediate cease-fire and indicated that Spain would be willing to help a potential European Union mission to monitor it.
Zapatero said Spain remained a friend of Israel, but its attacks in Gaza were an "absolutely disproportionate reaction to Hamas' irresponsible and provocative breaking of the cease-fire" through its repeated rocket attacks on Israel.

The late Palestinian leader Yasser Arafat made numerous trips to Spain, which has had historically good ties with Arab countries. Large parts of Spain were ruled by Moorish Muslim leaders for centuries during the Middle Ages.
Spain has 1,100 peace-keeping troops in southern Lebanon, following the 2006 war between Israel and Hezbollah.
E-mail to a friend

CNN Madrid Bureau Chief Al Goodman, Saad Abedine and Hada Messia contributed to this report.