JERUSALEM (CNN) -- A truce meant to allow humanitarian aid into war-torn Gaza crumbled minutes after it began Wednesday, while Israeli and Palestinian diplomats considered talks that could lead to a more lasting cease-fire.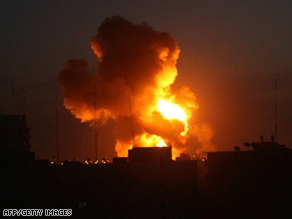 Flames rise into the sky after an Israeli airstrike Wednesday night in Rafa, on the Gaza-Egypt border.
The truce was part of Israel's stated desire to open a "humanitarian corridor" into Gaza in response to mounting concerns over shortages of food, water and medicine in the territory since Israeli airstrikes began December 27.
But minutes after the three-hour truce was set to begin at 1 p.m., Israeli forces fired at militants in the Hamas-ruled Palestinian territory.
The strikes came after militants targeted Israeli forces "almost immediately," Israeli Defense Ministry spokesman Peter Lerner said.
Lerner had previously said Israeli forces would respond to any aggression directed at them during the scheduled pause in activities in Gaza.
Hours later, Israel continued its ground and air assault for the twelfth day by bombing targets in Rafah, Gaza, after telling residents to leave.
There were no immediate reports of deaths or injuries from the bombing, which threw up huge plumes of black smoke, visible even in the dark.

Watch CNN's Karl Penhaul report on the humanitarian situation in Rafah »
Israel has said Hamas, the Palestinian movement that controls Gaza, smuggles weapons from Egypt into Rafah on the Gaza side through underground tunnels. Shutting down that supply route is one goal of Israel's nearly two-week military operation against Hamas.

Learn what's behind the conflict »
At least 680 Palestinians have been killed and 3,000 wounded in Gaza since the campaign began on December 27, Palestinian medical officials said. Nearly a third of the deaths and 45 percent of the injuries are women and children, according to the U.N.'s Office for the Coordination of Humanitarian Affairs. Seven Israeli soldiers and three civilians have been killed.
'AC360°' live in Israel
CNN's Anderson Cooper reports on the Gaza incursion live from Israel.
Tonight, 10 ET

The three-hour truce is scheduled to take place every other day, Lerner said, but humanitarian agencies say the timeframe is not long enough to alleviate the "deepening humanitarian crisis" in Gaza.
"We are feeding 750,000 [people] on a permanent basis," U.N. Relief and Works Agency spokesman Chris Gunness said. "We need to build on this three-hour window; we need to expand that window and let it lead to a permanent cease-fire."
Israeli and Palestinian diplomats were preparing for meetings in Egypt to discuss a Gaza truce plan that still was being formulated.
Israel will send two envoys to Cairo, Egypt, in the coming days to discuss the plan, an Israeli foreign ministry official said Wednesday. Palestinian diplomatic officials said Palestinian Authority President Mahmoud Abbas, who was in Spain on Wednesday, was planning to go to Cairo.

Watch CNN's Christiane Amanpour report on diplomatic efforts »
Don't Miss
Egypt's foreign minister, Ahmed Aboul Gheit, said representatives of Hamas have been invited to talks, but that if they come they will not be in the same room as other negotiators.
Israel, the United States and the European Union consider Hamas a terrorist organization. Israel refuses to negotiate directly with Hamas, but in the past has used Egypt as a go-between.
Meetings also continued Wednesday at the United Nations regarding a possible cease-fire.
By Wednesday evening, 16 rockets had struck the Jewish state, according to the Israeli military. There was no immediate report of injuries.
Tuesday was the bloodiest day of the Israeli ground offensive to date, when Israeli shelling struck a U.N. school in northern Gaza being used as a shelter by hundreds of civilians.

Watch officials from U.N. and Israel argue over details of school strike »
The Israeli military said Hamas militants were firing mortars from the school, prompting an artillery strike that killed at least 40 people and wounded dozens more. U.N. officials said there were no militants at the school.
"We are 99.9 percent certain that there were no militants. There were no militant activities in the school or in the school compound," said Gunness of the U.N. Relief and Works Agency.
The Palestine Red Crescent said five ambulances had been hit by Israeli forces, killing six people. The agency did not give a breakdown of paramedics and patients, and CNN was not able to independently verify these allegations.
The Israeli military said it was unaware of any such incidents.

Watch Arabs react to the conflict in Gaza »
Also Wednesday, Israeli forces allowed a camera crew to cross the Gaza border to shoot footage of the conflict, marking the first time journalists from outside the territory have been let in.

The video shows Israeli foot troops on patrol and in a firefight, Israeli tank operations and what Israel said were air troops detonating underground arms stockpiles and Hamas booby traps.
An Israeli army patrol accompanied the BBC camera that shot footage, which was cleared by Israeli military censors. Israel still has not permitted media organizations independent access to Gaza.
E-mail to a friend

CNN's Shira Medding and Ben Wedeman contributed to this report.