(CNN) -- Far more civilians than Hamas fighters are arriving for treatment of war wounds at Gaza's main hospital as Israel's military incursion into the territory continues, two doctors say.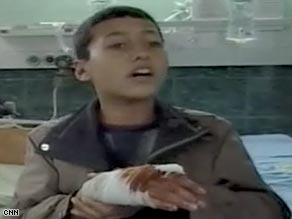 A young Palestinian boy is treated for a wound Monday at Gaza City's Shifa Hospital.
When the Israeli airstrikes began more than a week ago, the first casualties Shifa Hospital saw were fighters in military uniform, a Palestinian doctor said Monday.
"But after that day and until this day, we didn't receive any men from the resistance or anyone in the military," he said. "All of them were civilians."
Eric Fosse, a Norwegian doctor volunteering at Shifa, said he had seen more women and children among the casualties Monday than on any other day since the Israeli offensive began December 27. Most of the wounded men he is seeing are civilians as well, he said.

Watch hospital staff tend to bloodied civilians »
It is not clear whether Hamas dead and wounded are being taken to a different hospital.
Nearly 600 Palestinians, including at least 100 women and children, have been killed in Gaza since the campaign began, according to Palestinian medical sources. In addition, at least 2,750 Palestinians have been injured, most of them civilians, the sources said.
The Israeli military said Tuesday it has killed 130 Hamas militants since the ground offensive began Saturday evening. The Jewish state says the offensive is designed to stop months of rocket strikes on southern Israel by Hamas militants in Gaza.
Israeli government officials claim Hamas is hiding fighters and weapons at the hospital, but the images from Shifa's emergency ward show families.
"We were hit with a rocket," a boy in the hospital said as his brother wandered in a daze, nursing an injury to his ear. Another child cried nearby, moaning for her mother as doctors tried to treat her injured limbs.
A nurse trying to set up an IV in another room said the hospital is treating five people from one family. Another woman wept for her 6-month-old child, who she said died after four days without food or water.

The stench of death hovered around the facility, which is short of medicine, electricity and water. The morgue is overflowing, with two bodies crammed into each drawer.
"Where are our leaders? Can they have mercy on our children?" one woman wailed. "All the dead are just lying around."
E-mail to a friend

CNN's Christiane Amanpour contributed to this report.