(CNN) -- Israel has agreed to establish a "humanitarian corridor" to supply residents of Gaza with aid as international concerns about conditions among civilians mount, according to a government statement.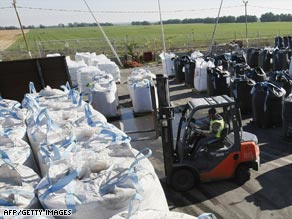 Israeli workers prepare humanitarian supplies to be delivered in Gaza on Tuesday.
The statement, posted on Prime Minister Ehud Olmert's Web site, said Olmert decided to accept a proposal from security advisers to open the corridor.
It said a path into Gaza, where Israel launched a ground offensive against Hamas militants on Saturday, "will be opened for a specific period of time, during which the population can receive the aid."
The statement also said Olmert spoke Tuesday with U.S. Secretary of State Condoleezza Rice to "update her on political and military developments," including the humanitarian situation.
Hospital workers reported Tuesday that far more civilians than Hamas fighters were arriving at hospitals for treatment.
Don't Miss
Food, water, medicine and electricity shortages have been reported throughout Gaza during the campaign, in which nearly 600 Palestinians have been killed and another 2,750 wounded, according to medical sources.
Jerusalem has been under intense international pressure to let goods pass, because of shortage of food, medicines and fuel.

"There are food shortages. ... The health system is overwhelmed. The people here don't have electricity," Mohammed El-Halaby, program manager for humanitarian group World Vision, said earlier this week.
El-Halaby said several power lines and water pumps were damaged during last week's airstrikes, which preceded the ground incursion.
E-mail to a friend