GAZA CITY (CNN) -- The Israeli military surrounded densely populated Gaza City late Monday as the death toll mounts in Gaza.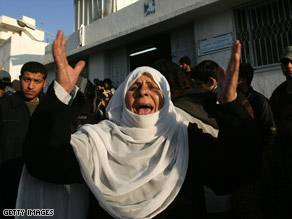 A relative of a Palestinian victim cries out outside a hospital in Gaza City, Gaza Monday.
Israeli security sources said they surrounded the city of about 400,000 in their operation against Hamas.
Military officials also said "friendly fire" killed three Israeli troops late Monday in an explosion in northern Gaza.
Two dozen other troops were wounded -- one critically and three severely -- in the explosion. The troops were part of the Golani Brigade, and their commander, Col. Avi Peled, sustained minor injuries.
The explosion was caused by a tank shell that hit a building the troops were in, officials said.
"The incident occurred during an intensive battle waged by Golani Brigade soldiers against Hamas," the Israeli military said in a statement.
The explosion was investigated and foul play, including rocket attacks and booby traps, were ruled out, the military said.
The victims were evacuated by air and ground to Israeli hospitals.
Neither Hamas nor Israel has shown any public interest in international calls for a truce.
"I can understand the eagerness of the international community to see the return to calm," Israeli Foreign Minister Tzipi Livni told European foreign ministers in Jerusalem. "This is our dream as well. This is what we are looking for. Unfortunately, there are those who cannot accept the idea of living in peace in this region."
On Monday Hamas militants fired dozens of rockets into southern Israel despite a 10-day Israeli military campaign that reportedly has left more than 500 Palestinians dead.
Abu Obeida, a spokesman for Hamas' military wing, warned Israel that Izzedine al Qassam Brigades will continue rocket strikes "for many months" and vowed to strike deeper into Israeli territory. He spoke on Hamas' Al-Aqsa TV.
Senior Hamas official Mahmoud al-Zahar also gave a televised address Monday, saying the leadership in Gaza salutes "the resistance men" and that their actions were justified because of what Israel has done.
"They [Israeli forces] shelled everyone in Gaza. ... They shelled children and hospitals and mosques," he said. "And in doing so, they gave us legitimacy to strike them in the same way."
Israel on Monday continued its military assault on Gaza from the air and the ground. Heavy fighting erupted Monday night around Gaza City, the Israel Defense Forces said. Earlier in the day, Israeli forces took "tens of Hamas militants" into custody, the military said. IDF also said that fighting between Hamas militants and Israeli troops left several of the militants injured, but it did not say how many.

Watch a report on the continued fighting »
Eight Israeli soldiers were lightly wounded during battles with Hamas militants Monday afternoon, IDF said. On Sunday, an Israeli soldier was killed, marking the first military death since the ground operation launched Saturday night.
'AC360°' live in Israel
CNN's Anderson Cooper reports on the Gaza incursion live from Israel.
Tonight, 10 ET

The military campaign has not stopped militants in Gaza from firing on southern Israel: 47 rockets and mortars struck Israel on Sunday and at least another 40 on Monday, the Israeli military said.
One of the rockets hit a kindergarten in Ashdod, the military said. The school, like all Israeli educational facilities near the Gaza border, was closed.
The Israeli military said the ground assault -- which was launched Saturday night -- is the second phase of the operation to stop militants from firing rockets and mortars into southern Israel.
Israel began its air assault on Gaza on December 27 to stop the rocket attacks that have killed four Israelis since the military campaign began.
"Before the military operation, the equation was that Hamas targets Israelis whenever it likes, and Israel shows restraint," Livni told foreign ministers from the European Union on Monday.
"This is not going to be [any] longer the equation in this region. When Israel is targeted, Israel is going to retaliate."
Don't Miss
Thousands of Israeli troops, backed by tanks, artillery and helicopters, have pushed deep into Gaza, essentially splitting it into the south and north.
"Every couple of minutes we hear an explosion," Gaza City resident Safa Joudeh said Monday. "We can see tanks coming closer and closer into Gaza."
She said most residents are confined to their homes and are without electricity and running out of food and water.
The ground war led to mounting casualties in Gaza. More than 530 Palestinians have been killed since Israel launched its operation, including at least 100 women and children, according to Palestinian medical sources. That number includes 82 Palestinians killed since the ground invasion -- 30 of them children and 20 women, the sources said. In addition, 2,750 Palestinians have been injured, most of them civilians, the sources said. iReport.com: Share reactions to "all-out war" in Gaza
Israel also stepped up its psychological campaign Monday, trying to turn Gazans against Hamas.
"Urgent message, warning to the citizens of Gaza," said a recorded phone call to Gaza resident Moussa El-Hadad. "Hamas is using you as human shields. Do not listen to them. Hamas has abandoned you and are hiding in their shelters."
The Israeli military also dropped leaflets into the streets of Gaza warning residents that the IDF will continue using "full force against Hamas." It also warned that the military "also has other means to deal with Hamas."
"If the army uses them, the toll will be very painful," said the leaflet, signed by IDF command.

A delegation of EU foreign ministers is in Jerusalem to push for a truce, while Egypt is putting pressure on Hamas leaders in Gaza.
Israel on Monday allowed 80 trucks filled with humanitarian supplies to pass into Gaza.
E-mail to a friend

CNN's Talal Abu Rahma in Gaza City and Michal Zippori in Jerusalem contributed to this report.