By Ashley Fantz
CNN






(CNN) -- "Listen, listen to this!" shouts Fida Qishta as the crackling of rockets is heard over her phone receiver.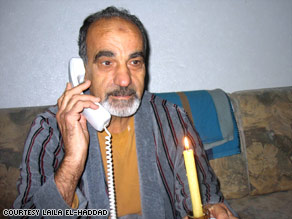 Moussa El-Haddad, a physician in Gaza, talks to his daughter in his powerless living room.
"It's difficult for anybody to imagine that in a second, maybe when I am talking to you on the phone, maybe something [will] happen to me or to my family," the Palestinian blogger told CNN from her home in Gaza.
She has gotten little sleep during the past 10 days as Israel continues its attacks on her homeland, attacks the Jewish state says are designed to stop months of rocket strikes on southern Israel by Hamas militants in Gaza.
Qishta writes furiously, hoping to convey the horror she sees. "The Israeli army are cannibals. They don't look for civilians, for children or women. Most attacks happen on families, on their houses," she said, her voice rising in anger.
For what Qishta cannot put into words, there are agonizing photographs: Bloody Palestinian children, their skin burned, lie limp in their helpless parents' arms. Hospitals, filled to capacity, redefine chaos as much-needed medical supplies are stalled a short distance away at the blocked border with Egypt.
At one hospital, a man bows his head and cries. He rests his hand over the bellies of his two toddler relatives. They look uninjured; their eyes are shut. They were both killed Monday.
They are the faces of a Palestinian death toll that has surpassed 500.
"There's always two sides to every story," said Dov Hartuv, who lives close to the southern border in Israel's Kibbutz Nahal Oz, which he says has been hit by Hamas rockets in the past. Israel has said its campaign is aimed at stopping Hamas rockets from terrorizing its own civilians.
Asked about Fida Qishta's strong comments, Hartuv said it's hard not to react.
"But I am not going to argue with her," he said. "We are in the eye of the storm just as she is."
At the Egyptian border, Antar Mahmood stands and waits. At his feet are drums of cooking oil, food and a heavy bag of supplies he is trying to take to his family. He says his house was flattened by the Israeli airstrikes.

Watch report from Gaza's border with Egypt »
But Israeli and Egyptian guards aren't letting anything or anyone get through this part of the Gaza border.
"I just called home and asked what happened, and they said your son Mohammed has been wounded," he said. "He's alive, but he's wounded."
In Israel, where four civilians and one soldier have been killed since the attack on Gaza began, Israelis have been gathering every morning on a southern hilltop to watch Apache helicopters. Nearby, reporters who have been banned from entering Gaza set up tripods and position their long lenses.
"It is somewhat surreal to be standing on grassy hillsides with Israeli civilians sitting in chairs, watching the ongoing Israeli military offensive," Dion Nissenbaum, a McClatchy Newspapers Middle East correspondent, said in an e-mail to CNN.
"They don't seem to be bothered by the occasional Qassam rockets and mortar rounds that explode in the surrounding fields," Nissenbaum wrote in his blog, Checkpoint Jerusalem. "They have come to watch the war."
Dov Hartuv, who describes himself as a fatalist, said he has a fortified safe room in his home.
"I'm not really afraid for myself. What will happen will happen," he said. "But it certainly is very frightening and nerve-wracking to live under these conditions, and I'm sure everyone is affected by it. ... We think about people on our side and on the other side who are suffering and hope that it will end as quickly as possible."
From her part-time home in Durham, North Carolina, Palestinian mother and blogger Laila El-Haddad is constantly talking to her father in Gaza. Cell phone coverage is spotty, but the two manage to video conference using Skype.
"I'm thinking about my family all the time," she said. "I have lived through Israeli bombardments in the past, but this is much fiercer than anything ever before."
A few years ago, during air raids by Israeli jets over northern Gaza, she was living with her son in Gaza City.
She tried to tell the 2-year-old that it was just popcorn popping outside. He replied, "I don't like that kind of popcorn."
Even today, in the quiet of an American suburb, the boy still cannot sleep through the night.
"He remembers the shelling and gets up and crawls into bed with me," she said. iReport.com: Share reactions to "all-out war" in Gaza
Her father, Moussa El-Haddad, is a physician who volunteered Monday at Gaza's Shifa Hospital. On Sunday, a Norwegian doctor at Shifa told reporters that the facility was overwhelmed with so many "patients lying everywhere" that they were dying before doctors had a chance to get to them.
Moussa El-Haddad says that after dealing with death at work, he comes home to robo-calls: "Urgent message: Warning to the citizens of Gaza. Hamas is using you as human shields. Do not listen to them. Hamas has abandoned you and are hiding in their shelters. Give up now."
His daughter said he hangs up in disgust every time.

To ease the dark mood, Laila El-Haddad asked her father how his exotic pet bird is faring through the airstrikes.
"My dad has got a sense of humor," she said. "He told me that it used to go 'chirp, chirp,' but now it goes 'boom, boom.' "
E-mail to a friend

CNN's Karl Penhaul contributed to this report.