JERUSALEM (CNN) -- Israeli Prime Minister Ehud Olmert told his Cabinet Sunday he had "no alternative" but to order a ground incursion in Gaza to end Hamas rocket attacks on southern Israel.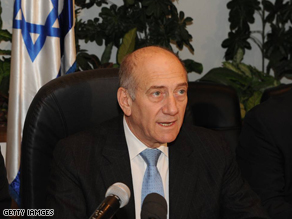 Israeli Prime Minister Ehud Olmert said he had to order Gaza attacks to stop rocket attacks in Israel.
The Israeli army's objectives were to "strike at the military infrastructure that Hamas has established and to take control of the areas from which most of the missiles have been fired" at Israeli territory, Olmert said.
Hamas has vowed to "fight until the last breath," warning Israel that "Gaza will be your cemetery" as Israeli ground forces entered the Hamas-controlled territory Saturday night.
Hamas has fired 220 rockets into southern Israel in the past week from the areas of Gaza that Israeli troops have now entered, Olmert said.
"In a responsible and determined country, " Olmert said, "it cannot be that the home front will be subject to attack and a daring, strong and well-trained military does not defend it."
He said that after talking with his advisers on Friday, he made the decision "to send our boys to defend their parents, brothers, sisters and neighbors that they left at home."
"This operation was unavoidable," he said.
Olmert said the decision was made after Israel concluded that a six-month cease-fire with Hamas, which ended in December, had not been effective.
AC360° LIVE in Israel
Anderson Cooper covers Gaza conflict LIVE from Israel
Monday, 10 p.m. ET

"We did not reach this conclusion lightly," Olmert said. "For many months, we gave the calm a chance in the hope of avoiding a wide-ranging military operation. Our hopes were dashed."
As night fell on the eighth day of the bloody conflict, both sides remained defiant.
"We will not abandon the battlefield, and we will stay on the thorny course and we will fight until the last breath," Hamas spokesman Ismail Radwan said in a statement on the Palestinian television station Al-Aqsa.

Watch Hamas' statement »
"Your incursion to Gaza will not be a picnic, and Gaza will be your cemetery, God willing. You have no choice but to end this aggression and end the siege without any condition. You will not live in peace until our Palestinian people live in peace," Radwan said, reading from a statement as Fawzi Barhoum, the Hamas spokesman in Gaza, sat next to him.
"God is great, and the victory will be that of the mujahedeen."
Don't Miss
The spokesman also referred to an Israeli airstrike that hit a mosque in the northern Gaza city of Beit Lahaya on Saturday, killing 13 people and wounding more than 60, according to Palestinian medical sources.
"The aggression continues against our people, universities, mosques and everything that is there. The Zionist enemy targeted the houses of worship, the mosque -- and the worst was today when they targeted the Ibrahim Maqadmeh mosque, killing dozens of civilians," said Radwan.
Olmert said Israel would not "allow a humanitarian crisis to be created in the Gaza Strip." iReport.com: Share reactions to the crisis in the Middle East
"We will help supply food and medicines like any enlightened and moral country must do," he said.
E-mail to a friend