JERUSALEM (CNN) -- Israeli Prime Minister Ehud Olmert told his Cabinet Sunday he had "no alternative" but to order a ground incursion in Gaza to end Hamas rocket attacks on southern Israel.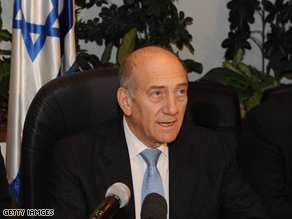 Israeli Prime Minister Ehud Olmert said he had to order Gaza attacks to stop rocket attacks in Israel.
The Israeli army's objectives were to "strike at the military infrastructure that Hamas has established and to take control of the areas from which most of the missiles have been fired" at Israeli territory, Olmert said.
Hamas has fired 220 rockets into southern Israel in the past week from the areas of Gaza that Israeli troops have now entered, Olmert said.
"In a responsible and determined country, it cannot be that the home front will be subject to attack and a daring, strong and well-trained military does not defend it," he said.
He said that after talking with his advisers on Friday, he made the decision "to send our boys to defend their parents, brothers, sisters and neighbors that they left at home."
"This operation was unavoidable," he said.
Olmert said the decision was made after Israel concluded that a six-month cease-fire with Hamas, which ended in December, had not been effective.
AC360° LIVE in Israel
Anderson Cooper covers Gaza conflict LIVE from Israel
Monday, 10 p.m. ET

"We did not reach this conclusion lightly," Olmert said. "For many months, we gave the calm a chance in the hope of avoiding a wide-ranging military operation. Our hopes were dashed."
Meanwhile, Hamas vowed to "fight until the last breath," warning Israel that "Gaza will be your cemetery" as Israeli ground forces entered the Hamas-controlled territory Saturday night.
As night fell on the eighth day of the bloody conflict, both sides remained defiant, vowing to stand their ground and accusing each other of provoking the clash.
"In recent days, I have been in continuous contact with most leaders of the free world," Olmert said, adding that diplomatic efforts are being pursued along with the military campaign.
Olmert said he was "greatly encouraged" by support from President Bush, "who told me that we must ensure that Hamas not only stops firing but is also unable to do so in the future."
Olmert said Israel would not "allow a humanitarian crisis to be created in the Gaza Strip."
Don't Miss
"We will help supply food and medicines like any enlightened and moral country must do," he said.
At least 21 Palestinians have been killed as of Sunday during Israel's ground assault in Gaza, Palestinian medical sources said. At least 2,750 Palestinians have been injured in eight days of Israeli airstrikes, medical sources said.
Eight of those 21 deaths happened during heavy battles between Israeli soldiers and Hamas fighters in northern Gaza, the sources said. Four civilians were killed by Israeli shelling in Rafa in southern Gaza; one militant died in Khan Yunis; five people were killed near the Jabalya refugee camp; and three died in Gaza City, Palestinian medical sources also said.
"We will not abandon the battlefield, and we will stay on the thorny course and we will fight until the last breath," Hamas spokesman Ismail Radwan said in a statement on the Palestinian television station Al-Aqsa.

Watch Hamas' statement »
"Your incursion to Gaza will not be a picnic, and Gaza will be your cemetery, God willing. You have no choice but to end this aggression and end the siege without any condition. You will not live in peace until our Palestinian people live in peace," Radwan said, reading from a statement as Fawzi Barhoum, the Hamas spokesman in Gaza, sat next to him.
"God is great, and the victory will be that of the mujahedeen."
The spokesman also referred to an Israeli airstrike that hit a mosque in the northern Gaza city of Beit Lahaya on Saturday, killing 13 people and wounding more than 60, according to Palestinian medical sources.
"The aggression continues against our people, universities, mosques and everything that is there. The Zionist enemy targeted the houses of worship, the mosque -- and the worst was today when they targeted the Ibrahim Maqadmeh mosque, killing dozens of civilians," said Radwan.
"What crime can be worse than this? This is happening in front of the eyes of the Muslim and Arab world."
But Israel's defense minister Ehud Barak said he "thought and thought" about Saturday's incursion before giving it the green light, ultimately deciding that it was necessary to protect his people from a barrage of Hamas rockets.
"We do not go to war happily, but we shall not abandon our citizens who are constantly being targeted by Hamas attacks," Barak said Saturday.
"I know perfectly well what the risks are," he said. "This will not be short; this will not be easy. I don't wish to delude anyone. And the coming days will be difficult also for the residents of the south."
Barak said Israel is "fully aware" of the challenges, difficulties and fatalities posed by the ground incursion but insisted that the nation "has a duty and responsibility" to its citizens.
"We have bitten our lips for a long time," Barak said. "But now, the time has come to do what we have to do. ... We are ready to deal with a complex battle."
E-mail to a friend