JERUSALEM (CNN) -- British Prime Minister Gordon Brown Sunday called for an "immediate cease-fire" between Israel and the Palestinians, hours after Israeli ground forces entered Gaza following a week of air raids.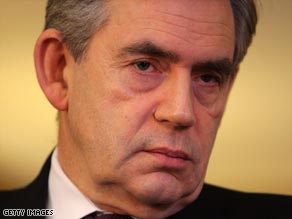 British Prime Minister Gordon Brown has called for an immediate cease-fire in Gaza.
Brown said the Palestinians "need humanitarian aid, but the Israelis must have some assurance that there are no rocket attacks coming into Israel."
He was speaking on the BBC's "Andrew Marr Show."
He said he had spoken to Israeli Prime Minister Ehud Olmert three times in the last few days, and that British Foreign Minister David Miliband had also been in touch with top Israeli government ministers about "the guarantees that they need for the action to stop."
He said he had "tried talking" to Mahmoud Abbas, the president of the Palestinian Authority, but did not say he had spoken to Hamas, which controls Gaza and is the target of Israel's attacks.
"First we need an immediate cease-fire -- and that includes the stopping of the rockets into Israel. Secondly, we need some resolution of the problems over arms trafficking into Gaza. And, thirdly, we need the borders, the crossings open, and that will need some international solution," he said.
He called on "international powers," Egypt, and the Arab League to play a role in ending the crisis, which has left at least 460 Palestinians dead since air raids began in late December, according to Palestinian medical sources.
Former British Prime Minister Tony Blair, who is now an international envoy focusing on Israel and the Palestinians, is due to meet Olmert later on Sunday.
E-mail to a friend