(CNN) -- World leaders offered a range of reactions to the Israeli ground offensive launched Saturday in Gaza.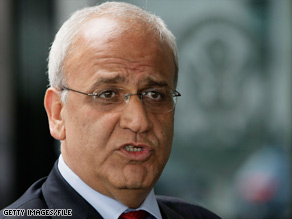 Palestinian Authority chief negotiator Saeb Erekat was one of many world leaders to criticize the Israeli offensive.
Israeli Defense Minister and former Prime Minister Ehud Barak
"We have carefully weighed all our options. We are not war-hungry, but we shall not -- I repeat -- we shall not allow a situation where our towns, villages and civilians are constantly targeted by Hamas. It will not be easy or short, but we are determined."
Abu Thaer, spokesman for the Fatah party's al Aqsa Martyrs Brigades
"We will rub their noses in the sand. To the Arabs of 1948, today it is the time to act, to carry martyrdom operations in the heart of Israel. In case they really get in on the ground, they will be taught a lesson that they will never forget. The Israeli army is the loser from ground operations in Gaza."
U.N. Secretary-General Ban Ki-moon
"The secretary-general has spoken with Prime Minister Olmert and conveyed his extreme concern and disappointment," a spokesman said in a statement. "He is convinced and alarmed that this escalation will inevitably increase the already heavy suffering of the affected civilian populations. He called for an immediate end to the ground operation and asked that Israel do all possible to ensure the protection of civilians and that humanitarian assistance is able to reach those in need."
AC360° LIVE in Israel
Anderson Cooper covers the Gaza conflict LIVE from Israel.
10 p.m. ET Monday

Sean McCormack, U.S. State Department spokesman
"We are working toward a cease-fire that would not allow a re-establishment of the status quo ante, where Hamas can continue to launch rockets out of Gaza and to condemn the people of Gaza to a life of misery. It is obvious that that cease-fire should take place as soon as possible, but we need a cease-fire that is durable, sustainable and not time-limited."
President Bush
"U.S. officials have been in regular contact with the Israelis as well as officials from countries in the region and Europe," spokesman Scott Stanzel said.
President-elect Barack Obama
"The president-elect is closely monitoring global events, including the situation in Gaza," said Brooke Anderson, chief security spokeswoman for Obama's transition team. "There is one president at a time, and we intend to respect that."
Don't Miss
Palestinian Authority chief negotiator Saeb Erekat
"We believe this will add to the complexities, and violence will breed more violence and more of the same. The problem we have does not require a military solution. If Israel believes it can solve this solution through military means, this was proven wrong so many times."

Watch Erekat's reaction »
Eric Chevallier of French Foreign Ministry
France is "calling for an immediate cease-fire, with the Israeli led ground operation and continued rocket fire. We urge both parties to go for the truce."
Joe Stork of Human Rights Watch
"An Israeli ground operation in Gaza will likely mean intense combat in densely populated areas, where the threat to civilians is substantial. The [Israel Defense Forces] and Hamas must take concrete steps to minimize the fighting's impact on civilians, or the results could be catastrophic."
E-mail to a friend