LONDON, England (CNN) -- Thousands of people gathered Saturday in London to protest Israeli airstrikes on Gaza, in one of several demonstrations planned across Britain.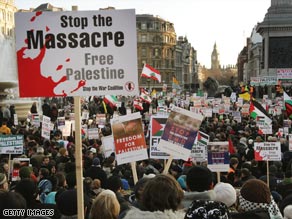 Police estimate 5,000 protesters converged on London's Trafalgar Square.
Police estimated that as many as 12,000 people participated in the London rally, which organizers predicted would be the largest.
As they marched to Trafalgar Square from the River Thames, many threw or left behind shoes at 10 Downing Street, the prime minister's residence.
Organizers had encouraged people to bring old shoes to show Prime Minister Gordon Brown their "disgust," in the spirit of Iraqi journalist Muntadhir Al-Zaidi, who hurled his shoes at President Bush two weeks ago while the American leader was in Baghdad.
"Gordon Brown, cloaking himself in Tony Blair's mantle, has joined with George Bush in stopping a unanimous call by the United Nations for Israel to stop bombing immediately," one organizer, Stop the War Coalition, said on its Web site.
AC360° LIVE in Israel
Anderson Cooper covers Gaza conflict LIVE from Israel
Monday, 10 p.m. ET

"It's shocking and it's terrible," one woman told CNN, referring to the Israeli airstrikes. "I feel that even though I'm so far away, these people are human beings, and we have to look at what's going on, and we can't just sit by and watch it happen without doing anything."
Several speakers addressed the crowd: singer Annie Lennox, comedian Alexei Sayle, former London Mayor Ken Livingstone and politician George Galloway.
Lennox said Friday that television footage of the airstrikes in Gaza had disturbed her.
"It shook me to the core," she said, according to a video posted on the BBC's Web site. "I was thinking as a mother, and as as a human being, how was this going to be the solution to peace?"
After the two-hour rally in Trafalgar Square, a group of protesters decided to march about 3 miles (4.8 kilometers) to the Israeli Embassy, where there have been protests all week.
Don't Miss
Police said the group, which chanted and demonstrated behind barricades outside the embassy, numbered about 2,000.
Some protesters tossed shoes at the police, police said, and one person was seen trying to jump a barricade before police intervened.
Police said no arrests had been made in either the rally in Trafalgar Square or outside the Israeli Embassy.
Several other demonstrations were planned for Saturday, including in Liverpool, Bristol, Leeds and Manchester.
Protests against the airstrikes have been going on all week, with people assembling outside the Israeli Embassy in London and, on Friday, they gathered outside the Egyptian Embassy in London. Egypt has been criticized for keeping its border with Gaza closed.

Watch protests at the Egyptian Embassy »
Other protests against the Israeli operation have taken place in Afghanistan and in Indonesia.
At least 460 people have been killed and 2,750 people have been wounded in Gaza in the weeklong offensive, Palestinian medical sources said Saturday.
Israeli police and military officials said four people, three of them civilians, have died in Hamas rocket attacks in the past week. Another 59 have been wounded.
E-mail to a friend

CNN's Lonzo Cook contributed to this report.
All About Gaza • Israel • Hamas • Mahmoud Abbas • George W. Bush