BAGHDAD (CNN) -- A bomb attached to a civilian car exploded Saturday in northern Iraq, killing two people who were inside, an Interior Ministry official said.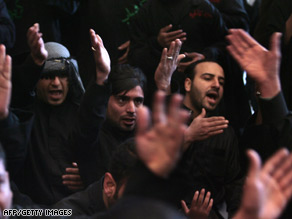 Shiites observe Ashura Saturday in Karbala, where the pilgrims whose bus was bombed were headed.
The two, who were brothers, were killed in Sinjar, a town about 110 kilometers (68 miles) west of Mosul. A bystander was also wounded, the official said.
The U.S. military refers to explosive devices attached to vehicles without the driver's knowledge as "sticky bombs."
Mosul is about 420 kilometers (260 miles) north of Baghdad.
In eastern Baghdad, eight Shiite pilgrims were wounded when a roadside bomb struck the bus they were riding in, the Interior Ministry official said.
It was not immediately clear how severely they were wounded.
Don't Miss
The official said the pilgrims were on their way to Karbala, south of Baghdad, to mark the holy period of Ashura. The day of Ashura itself falls on January 7, which is the 10th day of the month of Muharram.
The faithful trek to Karbala to commemorate and mourn the martyrdom of Hussein, the grandson of the Prophet Muhammad. He was killed in battle in Karbala -- the Shiite city south of Baghdad.
The defeat of Hussein by the caliphate in 680 in Karbala was one of the events behind the schism between Sunnis and Shiites, the two main Muslim religious movements.
The holy day is also observed in Baghdad, where many Shiites live. Ashura observances had been banned during the Saddam Hussein regime, a Sunni Arab-dominated government that persecuted and kept a tight leash on the Shiite population.
They resumed after he was toppled.
E-mail to a friend

CNN's Mohammed Tawfeeq contributed to this report.