British monarch reflects on 'difficult' 2009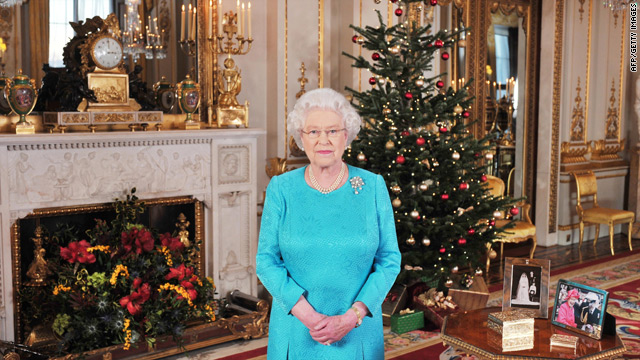 STORY HIGHLIGHTS
Queen Elizabeth reflects on war in Afghanistan and global economic crisis in Christmas message
Queen said she was "saddened by the casualties suffered by our forces"
Christmas is a time to "reflect on what confronts those less fortunate than ourselves" Queen said
London, England (CNN) -- Queen Elizabeth II addressed the economic crisis and the war in Afghanistan on Friday in her annual Christmas Day message.
"Each year that passes seems to have its own character. Some leave us with a feeling of satisfaction, others are best forgotten. 2009 was a difficult year for many, in particular those facing the continuing effects of the economic downturn," the queen said in videotaped remarks.
"I am sure that we have all been affected by events in Afghanistan and saddened by the casualties suffered by our forces serving there. Our thoughts go out to their relations and friends who have shown immense dignity in the face of great personal loss. But, we can be proud of the positive contribution that our servicemen and women are making, in conjunction with our allies."
More than 13,000 soldiers from Britain and across the Commonwealth -- including Canada, Australia, New Zealand, and Singapore -- are currently serving in Afghanistan, she said. "The debt of gratitude owed to these young men and women, and to their predecessors, is indeed profound."
The queen committed the bulk of her 6-minute message to praising the Commonwealth, a voluntary association of 54 countries, including some of the largest and poorest. Its aim is to help spread democracy and increase development.
"It is, in lots of ways, the face of the future," she said. "And with continuing support and dedication, I am confident that this diverse Commonwealth of nations can strengthen the common bond that transcends politics, religion, race and economic circumstances."
The queen added, "We know that Christmas is a time for celebration and family reunions; but it is also a time to reflect on what confronts those less fortunate than ourselves, at home and throughout the world... We may ourselves be confronted by a bewildering array of difficulties and challenges, but we must never cease to work for a better future for ourselves and for others."