Jailbreak fugitive updates Facebook page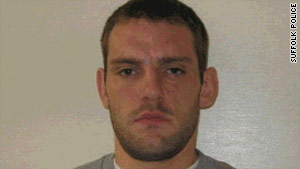 Craig Lynch has been on the run since September 2009, but has still been updating his Facebook.
STORY HIGHLIGHTS
Craig Lynch updates Facebook page since his escape in September
Police are using clues from profile page to help in the investigation
Lynch was sentenced to a seven-year jail term for aggravated burglary
London, England (CNN) -- British police have appealed for information about the whereabouts of an escaped prisoner who has been telling the world via Facebook about his life as a fugitive.
Craig Lynch, 28, escaped Hollesley Bay open prison near Suffolk, eastern England, back in September, but has continued to update his Facebook status regularly -- describing everything from his meals to who his next girlfriend will be.
"mmm i just had a 12lb venison steak. Roasted veg and chips, bangin meal. I feel stuffed but still got room for the j.d's . Hope you enjoyed the meal babe's. We'll have to eat here again" Lynch wrote on his wall.
In another posting from earlier this week Lynch wrote "Is thinkin, which lucky girl will be my first of 2010!!."
Police are trying to use clues left by Lynch on his Facebook to track down where the convicted burglar may be hiding.
Lynch was sentenced to a seven-year prison term for aggravated burglary and was serving his sentence in an open prison before his escape, according to a police spokeswoman.
"We have spoken to Facebook and we are trying to trace him from the information we have, but it's one of those things that we're also asking for help from members of the public," Suffolk police spokesperson Anne-Marie Breach told CNN.
"Obviously we're taking what he's saying on Facebook with a pinch of salt because he's now aware that people may be reading what he's writing."
News that Lynch's Facebook was being updated broke yesterday and since then, he has written several times of his life on-the-run.
"The hotel staff haven't even clocked which was the only thing I've been paranoid about all day!" he wrote.
Lynch's most recent posting read "well what can i say fellow friends. The run is nearly over. Sorry some of you had to find out like this. I know some of you might take offence that i never told you personally. But you know me. I Trust No One. Its the only way to be."