Ship seized with cocaine worth $600M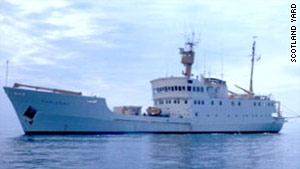 The Destiny Empress was seized carring $600 million worth of cocaine.
STORY HIGHLIGHTS
A ship carrying $600 million worth of cocaine is seized off Iberian coast
The ship is believed to be carrying 1.5 tons of cocaine
Members of the crew were arrested by police
The Destiny Empress is a former coast guard vessel
London, England (CNN) -- Spanish police have seized a ship carrying nearly $600 million worth of cocaine, in a joint operation with London's Metropolitan Police, Britain's Serious Organised Crime Agency, and maritime authorities, Scotland Yard announced.
The ship, carrying an estimated 1.5 tons of cocaine, was boarded 200 miles off the Iberian coast early Tuesday morning, police said.
Police believe the drugs were bound mostly for London -- and had a street value of 375 million British pounds, they said.
Members of the ship's crew were arrested, police said while suggesting that other arrests also had been made.
"The subjects are experienced criminals with long-standing associations. Their network stretches from London and Spain to the Caribbean and Colombia," the Metropolitan Police said in a written statement.
Police did not name the suspects or say what they were charged with. British law restricts what information can be published about people who have been arrested, for fear of prejudicing legal proceedings.
The 150-foot ship, the Destiny Empress, is a former Coast Guard vessel that set off from the West Indies.
The seizure of the ship was based on an intelligence operation, the police said in announcing it Tuesday.
Peter Beyer of the Metropolitan Police central task force thanked the Spanish police for their role in the operation, saying, "Their dedication and professionalism has ensured that the harm caused by this criminal network to the communities of London has been reduced significantly."