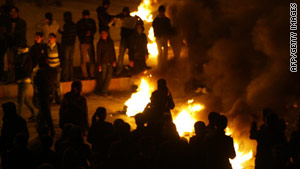 Kurdish demonstrators clash with police Friday in front of the Pro-Kurdish Democratic Society Party in Diyarbakir, Turkey.
STORY HIGHLIGHTS
Turkish police and Kurdish protesters clash outside office of main Kurdish political party
Tensions between Turkey, party on the rise after court rules to ban movement
Democratic Society Party to meet Monday to discuss whether to resign from Turkish parliament
Istanbul, Turkey (CNN) -- Turkish police broke up a crowd of angry Kurdish protesters Sunday and chased some into back alleys, in the latest signs of rising tensions in the country.
About 300 demonstrators gathered for a media statement at the offices of the Democratic Society Party, the main Kurdish political party, in the Istanbul neighborhood Dolapdere, police said.
The crowd began shouting slogans and throwing stones, triggering police action, officials said.
Anatolian, Turkey's official news agency, said police used water cannons and tear gas.
By Sunday night, tear gas had drifted into residences, causing people to choke and gasp, said a resident in Tarlebasi, next to Dolapdere.
Tensions have risen in recent days between Turkey and the party -- known by its initials in Turkish, DTP -- as a court ruled to ban the movement and the party threatened to boycott parliamentary sessions.
Local Turkish reporters told CNN there were small-scale street clashes with police in the southeastern border town of Yuksekova on Sunday. Residents said the atmosphere is tense.
Yuksekova and the nearby town of Hakkari were the scenes of clashes Saturday. According to Anatolian, 30 people were detained in Hakkari. Police seized Molotov cocktails and masks that demonstrators allegedly used to hide their faces.
On Monday, the DTP is scheduled to hold a party congress in the predominantly Kurdish city of Diyarbakir. Among the subjects to be discussed is whether DTP lawmakers should formally resign from the Turkish Parliament.
The co-chair of the party, Ahmet Turk, was banned from politics and stripped of his parliamentary seat by a Friday decision of the Constitutional Court, which ruled that the DTP is a focal point for terrorist activities.
Turk planned to attend the meeting in Diyarbakir. On Saturday he announced that DTP lawmakers will "withdraw" from Parliament. But he stopped short of calling for formal resignations, which may come Monday.
Kurds are Turkey's largest ethnic minority, numbering more than 12 million people. For many years, the Turkish state denied their existence, calling them "mountain Turks."
Since the early 1980s, Turkey has been locked in a bloody conflict with separatists from the Kurdistan Workers' Party, known as the PKK. More than 30,000 people, mostly ethnic Kurds, have been killed in the conflict.
In recent years, the Turkish government has made moves to relax tight restrictions on the use of Kurdish language in schools and media -- part of what is called the "democratic opening." This year, Ankara for the first time launched a state Kurdish-language TV channel, TRT 6.
Despite government plans to unveil a new set of democratic reforms, tensions have mounted between Kurdish and Turkish nationalists.
Turkish nationalists have long accused the DTP of working with the PKK, which has been labeled a terror organization by the United States and the European Union. While the DTP does not denounce the actions of the PKK, it insists it is a separate party.
For more than a week, Kurdish youths have clashed with Turkish police in cities and towns across the country, throwing stones and Molotov cocktails. Turkish security forces have used tear gas and made scores of arrests.
FOLLOW THIS TOPIC