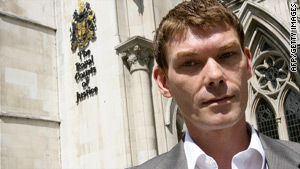 Gary McKinnon admits breaking into Pentagon computers.
STORY HIGHLIGHTS
McKinnon admits illegally accessing U.S. government computers
McKinnon says he was investigating if U.S. was covering up UFO sightings
Lawyers say he should not be extradited due to his Aspergers syndrome
London, England (CNN) -- The lawyer for hacker Gary McKinnon, who has admitted breaking into computers at NASA and the Pentagon, said Friday she would continue to fight his extradition to the United States after a top British politician said he would not intervene.
Lawyer Karen Todner told CNN she and her client were "extremely disappointed" by British Home Secretary Alan Johnson's statement Thursday. She said they would seek a judicial review of Johnson's decision in the coming week.
"We've got to remain hopeful," Todner said. "We're not going to give up."
McKinnon, a British citizen, has admitted breaking the law and intentionally gaining unauthorized access to U.S. government computers.
The U.S. government says McKinnon carried out the biggest military computer hacking of all time, accessing 97 computers from his home in London for a year starting in March 2001, and costing the government about $1 million.
U.S. authorities want him extradited to face trial in the United States.
McKinnon, currently free on bail in England, has said he was simply doing research to find out whether the U.S. government was covering up the existence of UFOs.
McKinnon was on the brink of extradition in August 2008, when the European Court of Human Rights in Strasbourg, France, refused to reconsider the decision to send him to the United States, effectively clearing the way for his transfer.
Shortly after that decision, however, McKinnon was diagnosed with Asperger syndrome, and he claims that diagnosis changed the case for extradition.
People with Asperger syndrome suffer difficulty in social relationships, communication, and social imagination, according to The National Autistic Society in Britain. Asperger syndrome may often include having special interests and becoming anxious if a routine is broken.
Todner and McKinnon's family say extraditing him to the United States would breach his human rights as an Asperger sufferer.
McKinnon made fresh appeals in Britain after his diagnosis and got as far as the High Court, which turned down his appeal. Britain's Supreme Court refused to hear his case, leading McKinnon to appeal to Johnson directly.
Johnson said in his statement Thursday he does not believe extradition would breach McKinnon's human rights, so he would not stop extradition from going ahead.
The home secretary said he had also received assurances from U.S. officials that McKinnon's health needs would be met.
"It is also clear from the proceedings to date that Mr. McKinnon will not, if convicted, serve any of his sentence in a supermax prison," Johnson said.
The minister added that if McKinnon should be extradited, charged and convicted in the United States and seek repatriation to the United Kingdom to serve a custodial sentence, the British government would facilitate his application quickly.
Todner said she was unconvinced by Johnson's statement and said any assurance that the Americans can deal with prisoners with Asperger is "completely not right."
"The Americans said they would provide psychiatric assistance on the trip over, but only if the U.K. pays for it," she said.
Should their efforts to seek a judicial review fail, Todner said they could apply again to the European Court of Human Rights, which was not aware of McKinnon's diagnosis the last time.
After the Supreme Court refused to hear McKinnon's case last month, Todner said her client was on the brink of suicide.
While that has abated, she said a psychiatric report on her client shows he is suffering from a serious depressive condition.
"He is on treatment now, though, and he is on medication, and that's making him a bit more stable than he was. But it's certainly not good," she said.
McKinnon is thought to have acted alone, with no known connection to any terrorist organization, said Paul McNulty, the former U.S. attorney for the Eastern District of Virginia.
A U.S. federal grand jury indicted McKinnon on seven counts of computer fraud and related activity. If convicted, he would face a maximum of 10 years in prison on each count and a $250,000 fine.
McKinnon has said it was easy for him to access the secret files.