Russian president sacks generals after deadly explosions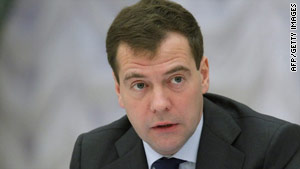 Russian President Dmitry Medvedev has ordered a review of all munitions depots.
STORY HIGHLIGHTS
Dmitry Medvedev sacked 4 generals and ordered Defense Ministry to consider punishments for others
Russian president gave Defense Ministry a month to conduct inventories of all depots
Eight bomb disposal experts died Monday as they cleaned up after a massive fire 10 days earlier
Moscow, Russia (CNN) -- Russian President Dmitry Medvedev sacked four top generals Tuesday after an explosion at a Navy arsenal killed at least eight bomb disposal experts a day earlier, he announced.
He also ordered the Defense Ministry to consider punishments for two other top military officials in the wake of the disaster.
"They have failed to do their job. This is a disgrace," Medvedev said on a trip to Ulyanovsk, the scene of the explosions, about 900 kilometers (560 miles) east of Moscow. The trip was scheduled earlier and was not a response to the tragedy.
The Russian president gave the Defense Ministry one month to conduct comprehensive inventories of all munitions depots across Russia, to prevent situations like the one in Ulyanovsk from happening elsewhere, he said.
"We have a lot of similar depots all across the country, and we should check out how well ammunition is stored there," he said.
Eight Russian bomb disposal experts were killed Monday as they cleaned up after a massive fire at the depot that happened 10 days earlier, the Russian Defense Ministry said Monday.
A shell "self-detonated" as ammunition was being loaded onto a truck at Russian Navy Arsenal No. 31 in Ulyanovsk, the ministry said on its Web site.
Ammunition already in the truck exploded, killing the eight technicians and wounding two others.
The November 13 fire at the facility created a series of explosions resembling fireworks that went off about every 30 seconds, according to Russian media.
Two people were killed in that fire, the Defense Ministry said at the time.
The governor of the Ulyanovsk region, Sergey Morozov, said in an interview with Russian Channel One TV that the depot had "several thousand rail cars" of munitions.
CNN's Maxim Tkachenko in Moscow contributed to this report.