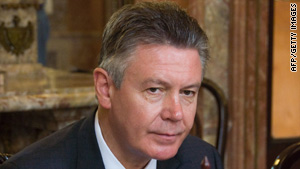 Karel De Gucht: Little sense in singling out Cuba.
STORY HIGHLIGHTS
EU official suggests less emphasis on human rights in Cuba policy
Signs suggest new EU president will soften policy toward island nation
Many members of U.S. Congress support a relaxation of travel ban to Cuba


(CNN) -- A European Union commissioner Monday told CNN's Christiane Amanpour that Europe's policy toward Cuba in the future will place less emphasis on human rights in the island nation than now.
The EU commissioner for development and humanitarian aid, Karel De Gucht, who is just back from a visit to Havana, Cuba, told Amanpour, "We have relations with a lot of oppressive regimes and we have a special regime for Cuba. It makes no sense singularizing them."
His comments come amid indications that Spain, which will hold the presidency of the EU for six months beginning in January 2010, intends to soften the organization's policy toward Cuba. The European Union currently criticizes Cuba's human rights record, but does not support the U.S. trade embargo against Havana.
The Obama administration, which has offered Havana a "new beginning," insists it will maintain sanctions as long as Cuba refuses to release political prisoners and improve human rights. But many critics overseas and a rising number in the United States say the embargo has totally failed to change the Cuban regime's policy and it is time for change.

Video: World's relations with Cuba

Video: Travel ban debated in Cuba, too
Many in the U.S. Congress now support at least a relaxation of the government's travel ban on Americans wishing to go to Cuba.
The lawmaker leading that effort, Rep. Howard Berman, chairman of the House Foreign Affairs Committee, told Amanpour there's a better chance now than ever of getting that travel ban lifted. "The brave people in Cuba who are standing up to this despotic regime want more contact with Americans," he said.
"I'm not here to say that getting rid of the travel ban will lead to immediate change in the regime," he added. "But in my heart of hearts, I believe that Castro does not want the travel ban to be repealed.
"He loves using American policy as a scapegoat for his own repression and for the terrible economic conditions the Cubans now live under. We are serving his purposes by our current policies."
The congressman was supported by the director of Human Rights Watch's Americas division, Jose Miguel Vivanco. His organization has just released a scathing report titled "New Castro, Same Cuba" on what it says is the sweeping repression of Cubans by Raul Castro's government.
Vivanco said the Obama administration should not only scrap the travel ban, but also the U.S. trade sanctions against Cuba because they have utterly failed in achieving American goals. "Regime change is rejected by the rest of the world. Nobody in Europe agrees with the U.S. Nobody in Latin America."
He said the United States should "build up a multilateral coalition that has the political power and the moral authority to exercise effective pressure on the Cuban government."
Lawrence Wilkerson, a former chief of staff to U.S. Secretary of State Colin Powell, was damning in his criticism of the U.S. trade embargo on Cuba. He called it "stupid and idiotic," adding, "It makes no sense. We need to move towards normalized relations."
Wilkerson, who is now co-chairman of the U.S.-Cuba Policy Initiative at the New America Foundation and recently visited Cuba, told Amanpour, "We need to adopt a new policy. That policy needs to be a policy of engagement so that we can have more impact on raising the standards of living of the average 11.5 million Cubans and so we can be around when the change (in leadership) does inevitably occur."
He added, "We need to work on this together, unlike the previous administration I served. This needs to be congressional, and it needs to be executive, and it needs to be the American people."
CNN asked the Cuban government to provide a representative to join Amanpour's discussion, but it said it had no one available.