Romanians vote amid political crisis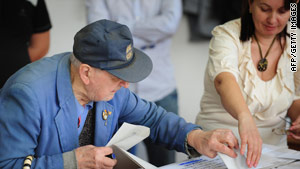 An election worker helps an elderly man cast his vote in Bucharest.
STORY HIGHLIGHTS
Incumbent Traian Basescu, Social Democrat Mircea Geoana are frontrunners
Election comes with Romania in crisis following collapse of government
EU member state has been forced to turn to IMF, World Bank for aid package
Top two in Sunday's vote likely to face runoff on December 6
(CNN) -- Romanians were voting Sunday in presidential elections dominated by the collapse last month of the country's ruling coalition and the severe impact of the economic crisis on the European Union member state.
Polls suggest center right incumbent Traian Basescu, seeking a second five-year term, and Social Democratic challenger Mircea Geoana are the frontrunners among 12 candidates, with the top two in Sunday's vote expected to go forward to a runoff on December 6.
Around 18 million people were eligible to vote Sunday, according to Romania's Agerpres news agency. By 12 p.m. GMT, around 21 percent of voters had cast their ballots, a Central Election Bureau spokesman told Agerpres. Polls close at 7 p.m. GMT (2 p.m. ET).
The first priority for the eventual winner will be to appoint a new government. Lawmakers voted to oust Prime Minister Emil Boc's center right administration on October 13 after Boc's coalition allies withdrew their support. Since then Boc, a member of Basescu's Liberal Democratic party, has been serving as head of an interim government.
The election is the first for Romania's head of state to be conducted since the Black Sea nation joined the EU in 2007 and comes weeks ahead of the 20th anniversary in December of the revolution that toppled the Communist dictatorship of Nicolae Ceausescu.
The former Soviet satellite remains one of the poorest corners of the 27-member economic bloc and has struggled to tackle corruption. Badly hit by the global political crisis, Romania was forced to turn to the International Monetary Fund, the EU and the World Bank in March for a $27 billion aid package to prop up the country's economy.
But that loan was contingent on Bucharest implementing reforms of the country's financial sector. Earlier this month the IMF said a third aid installment had been suspended until after the appointment of a new government.