British hostages say pirates will kill them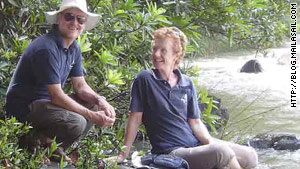 Paul and Rachel Chandler are said to be very experienced sailors who were aware of the risks posed by pirates.
STORY HIGHLIGHTS
Paul and Rachel Chandler seen on video broadcast on Britain's Channel 4
Chandlers were taken from their yacht by pirates in October
Pirates have demanded ransom of $7 million
Paul Chandler says pirates are losing patience and may kill the couple
(CNN) -- A British couple kidnapped from their yacht in October by pirates pleaded for their life in a video broadcast on Britain's Channel 4 Friday, warning that their captors were running out of patience and could kill them if no ransom is paid.
The Somali pirates have demanded $7 million for Paul and Rachel Chandler, taken from the 38-foot Lynn Rival just days after the couple set sail from the Seychelles islands for Tanzania.
"Our kidnappers are losing patience," said Paul Chandler, 59. "They are concerned that there has been no response at all to their demands for money."
As Chandler spoke during the two-minute video, he was surrounded by armed men pointing their weapons at him.
"We are also concerned that these people will lose patience and will not feed us -- and I have no doubt that they will not hesitate to kill us, perhaps within a week or so of now if there is no response," he said. "So, please somebody get in touch. Otherwise we just sleepwalk to a tragic ending."
It wasn't clear if the Chandlers were speaking on their own or delivering scripted statements.
So far, the British government has refused to pay the ransom demand or negotiate with the pirates, who are reportedly holding the Chandlers somewhere in Somalia.
"The government will not make substantive concessions for hostage takers, including the payments of ransom," according to the British Foreign and Commonwealth Office's official statement.
The government called the Chandler's innocent tourists and demanded their immediate release.
The video is the first time the Chandlers have been seen since their abduction, although they have previously been allowed to speak with Rachel Chandler's brother, Stephen Collett.
Both Chandlers said they were in good health, but feared their captors would not hesitate to kill them.
"We are very concerned about the future," said Rachel Chandler, 55. "Our captors are very impatient that nobody has been in touch about negotiations. We ask the government and the people of Britain and our families to do whatever you can to at least open negotiations with these people about money so that perhaps our lives can be bought back."
Pirates have been very active off the east coast of Africa in the past several years, operating out of lawless Somalia.
Two vessels were attacked the day after the Chandlers set sail. One of them, a cargo ship, was successfully boarded and seized off the Seychelles, while the other fought off its attackers near the Kenyan coast.
The first nine months of this year have seen more pirate attacks than all of 2008, the International Maritime Bureau, which monitors shipping crimes, reported October 21.