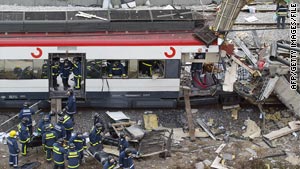 More than 300 possible extremists have been arrested in Spain since the 2004 Madrid commuter train bombings.
STORY HIGHLIGHTS
Man says 11 suspected of being militants planned to bomb metro last year
He says he issued warning when he thought attacks were imminent
11 defendants proclaim innocence, refuse to answer questions
Informant says he never worked for government secret service
Madrid, Spain (CNN) -- A police informant testified in court on Monday that 11 suspected Islamic militants on trial planned to attack Barcelona's metro last year with suicide bombers, who were to include the informant himself.
The informant, known as F1 to protect his identity and seen as a key to the prosecution case, denied on the stand that he worked for French intelligence.
Instead, he said that after the group's alleged leader, a Pakistani man, had designated him and three others to be suicide bombers and he believed that attacks were imminent, he warned a friend in France who has ties to the police.
He did so in a secretive mobile phone call to France from a bathroom at a Barcelona mosque, where he was huddled with several of the defendants while waiting for the bombs to be assembled, he testified.
Within hours of that January 2008 warning, Spanish police swooped in to make arrests. No bombs ever exploded, nor -- officials admit -- were finished bombs ever found, although police seized small amounts of what they said were bomb-making components.
Yet the alleged plot raised alarm bells in Europe because Spanish authorities said there were to be a series of attacks, starting with the Barcelona metro and then in another Spanish city and then to Germany, France, Portugal and Great Britain, if successive demands from a Pakistani Taliban leader and al Qaeda were not met.
The informant, testifying in English and separated by an opaque screen from the defendants in the high-security courtroom, ratified that version of events on the stand.
He testified that he had worked for al Qaeda from France, initially handling money transfers and later being sent for terrorism training in Pakistan and Afghanistan before finally being sent to Barcelona last year to join up with the suicide bomber cell there.
Earlier, the 11 defendants -- 10 Pakistanis and an Indian national -- all proclaimed their innocence, and most refused to answer questions from prosecutors.
The two Spanish defense attorneys who jointly represent the defendants hammered away at what they saw as inconsistencies in the informant's three hours of testimony Monday, the second day of the trial.
"Do you work for the French or any other secret services?" defense attorney Jacobo Teijelo asked.
"No," F1 replied. "Never in my life."
But then, under questioning, the informant said he couldn't remember exactly what treatment he received from Spanish police in the five days between his arrest -- along with the defendants -- and his designation as a protected witness.
He testified that he and another man, a Pakistani, were to be the first of the suicide bombers in metro cars and that a third man would detonate his device by remote control from a metro station platform.
"And not with timer detonation devices?" Teijelo asked.
"It depends on the experts, on how to do it," the informant replied as groans arose in the courtroom where 30 members of Barcelona's Pakistani community were watching, occasionally waving to friends or relatives among the defendants.
The defense lawyers also tried to pick apart the informant's version of how many suicide bombers would carry out how many attacks and where.
Suspected of leading the cell were Mahroof Ahmed Mirza, who was to choose the place and time for the Barcelona attacks, and Mohammad Ayud Elahi Bibi, prosecutor Vicente Gonzalez Mota wrote in a document outlining the charges. He seeks 18-year prison terms for them as leaders of a terrorist group and for possession of explosives.
Six other defendants face up to 16 years each in prison if convicted of membership in a terrorist group and possession of explosives. The rest would face lesser terms for other supporting roles.
The trial is due to last at least another week, with upcoming testimony from a Spanish intelligence agent and Civil Guard officers, who handled the investigation.
More than 300 suspected Islamic extremists have been arrested in Spain since the Madrid commuter train bombings that killed 191 people and wounded more than 1,800 on March 11, 2004, Spain's interior minister has said.