STORY HIGHLIGHTS
Lang Lang began playing piano at age three, winning competitions by five
His parents pushed him hard, devoting their lives to his musical career
Lang Lang's celebrity surged after Beijing Olympics, Grammy Awards
Jazz legend Herbie Hancock and Lang Lang team for classical/jazz tour
London, England (CNN) -- "Prodigy," "virtuoso," "genius" -- these are some of the words used to describe Lang Lang -- the most popular pianist on the planet.
To his millions of fans worldwide the 27-year-old Chinese musician is a God-like star, whose skill and energetic performance style put him in a league of his own.
To his occasional critics he is a flamboyant showman, whose exaggerated body movements taint the classical music that he plays, although his incredible talent is undeniable.
By the age of three, Lang Lang was already taking lessons. By the age of five, he had won his first competition. Now, not even 30, he has been named one of Time magazine's 100 Most Influential People in the World.
Since taking center stage at the 2008 Beijing Olympic Games opening ceremony, Lang Lang has become a superstar on the international circuit.
Are you a fan of Lang Lang? Has your child started piano lessons because of him. Tell us in the SoundOff box below.
Piano is something that I feel very close [to] ... It is maybe my greatest friend.
--Lang Lang
He has performed at the Grammy Awards, China's 60th Anniversary in Tiananmen Square and headlined hundreds more concerts around the globe, demonstrating enormous skill and an emotional, physical response to the music in every performance.
Some of Lang Lang's extraordinary talents can perhaps be attributed to his love of the piano -- which he says is "something I feel very close to."
He goes as far as to describe the instrument as "maybe my greatest friend."

Video: Revealed: Lang Lang

Video: Connector of the Day: Lang Lang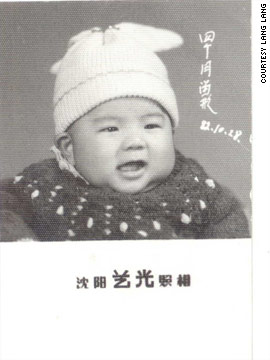 Gallery: Lang Lang: A Prodigy's Childhood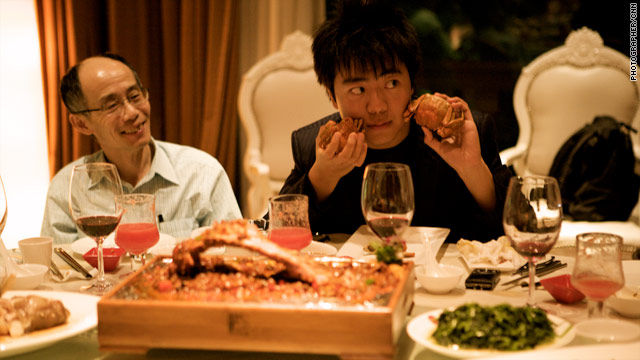 Gallery: The Lang Lang Effect
He also reveals the perfectionism that drives him, saying "sometimes you are not satisfied with yourself and sometimes you are not satisfied with the piano, so you fight!"
It has propelled Lang Lang to the very top of his profession, touring at a frenetic pace and collaborating with his musical hero, Herbie Hancock, in a jazz-meets-classical concert series.
Worldwide his influence has inspired millions of children to take up the piano -- it's called the "Lang Lang effect" -- and a variety of highly sought-after goods now bear his name, including Steinway's only personally-branded piano.
As a child Lang Lang's father pushed him hard to succeed, projecting his own dreams onto his only son -- a product of China's One Child Policy.
At the age of nine, Lang Lang gained a place at the Central Music Conservatory in Beijing and moved there with his father, who quit his job to concentrate on his child prodigy's career.
It is a time that Lang Lang remembers as one of the most difficult in his life.
"When we moved to Beijing [my father] became very strict and very strange ... I don't know what was the reason," he told CNN's Rosie Tomkins in an exclusive interview for Revealed.
His problems were compounded by his music teacher consistently telling him he was talentless and, finally, expelling him from the school.
"I got fired by the piano teacher six months later. It totally destroyed my piano dream ..."
It was at this point that Lang Lang remembers his father, enraged by his failure, telling him he should throw himself off their tenement building.
"[My father] became really kind of nuts ... One time he just asked me to jump the building, to finish ... it was really tragic," Lang Lang said.
Reflecting on that time, Lang Lang is grateful he did not attempt suicide. His relationship with his father, deeply damaged by the incident, has taken almost a decade to repair.
Lang Lang's father remembers the time differently. saying, "The way I see it, pressure always turned into motivation ... pressure always end[s] up as power."
Lang Lang's mother says that he could have been more gentle.
"[His] father is always very strict with him," she told CNN. "He seldom smiles, always wearing a straight face ... I don't like him that way."
She listened to classical music obsessively during her pregnancy in the hopes of jump starting her child's gift, according to The New York Times.
It's clear that Lang Lang's incredible success story is very much a family affair, for which he feels fortunate.
"I feel that I kind of deserve my career, but I'm very lucky ... I think its really a gift," he said.
At home in China, young admirers of Lang Lang's talents mob him, asking for signatures and photos.
As well as fans, his superstar status has brought with it detractors.
Notably, The New Yorker magazine dubbed him "the J Lo of Piano" for his physical style and flamboyant outfits, which include a custom pair of gold Adidas sneakers.
Lang Lang says he pays little attention to critics nowadays though, acknowledging that he gets flack for what he calls "liberal thoughts," "strange interpretations" and for being "too physical or something."
Lang Lang's so-called "liberal" approach is partly reflected in his enthusiastic collaboration with American jazz legend Herbie Hancock.
"Working with musicians like Herbie Hancock is an absolutely amazing experience.
"You feel such a solid heart and most creative mind with this very solid ground, and this is what a musician should be."
The feeling is mutual: "When I first met Lang Lang, right away, I saw 'Yeah, he is definitely jazzy!'
"His whole personality has this playful but serious nature, playful about life, vitality," Hancock told CNN.
Whatever his detractors say, With his stardom established, Lang Lang is now making it his mission to spread his love of classical music.
"I think for me the next chapter is what we call charity ... it's time for me to give back to society," he said.
This year he founded the Lang Lang International Music Foundation to inspire young children to play and is hoping to take time off from concerts to devote to teaching.
While he thinks piano is one of the most important things, it shouldn't be the only thing in life: "I think the most important thing is to be a wonderful person."
Join Revealed for a glimpse into a musical genius' life. www.cnn.com/revealed
Watch Lang Lang on Revealed in November at the following times:

Wednesday 18 November: 0930, 1730
Saturday 21 November: 0930, 1800, 2130
Sunday 22 November: 0630, 1830, 0400
(all times GMT)
CNN's Rosie Tomkins contributed to this report.