Iran condemns Oxford University over Neda scholarship
STORY HIGHLIGHTS
Iranian embassy complains to Oxford University over Neda Agha-Soltan scholarship
Embassy accuses university of "political motivation"
Agha-Soltan became resistance icon after being shot dead in Tehran protests
London, England (CNN) -- Iran has complained to Britain's Oxford University over a scholarship program in memory of Neda Agha-Soltan, the young woman whose on-camera death during a protests earlier this year made her a global icon of Iranian opposition.
In a letter to the head of the prestigious university's Queen's College, the Iranian embassy in London attacked the philosophy scholarship as "politically motivated," linking it to claims that Britain was behind violence in Iran.
Agha-Soltan was shot dead during a government crackdown on protests in the wake of June elections that opposition politicians said were rigged to give a landslide victory to hardline incumbent President Mahmoud Ahmadinejad.
The 26-year-old's final moments were captured on amateur video and beamed worldwide via the Internet. Iran says it is investigating her death, but rejects opposition claims she was shot by Iranian security forces.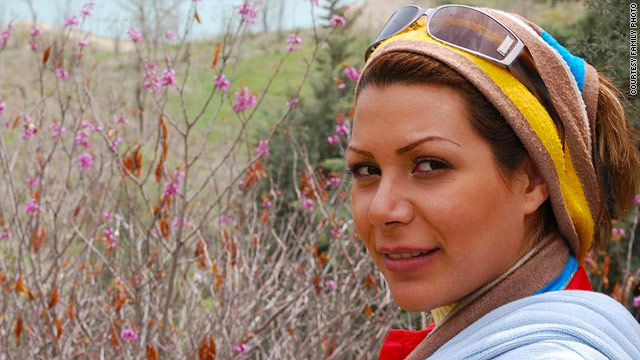 Gallery: Photos from Neda's life
In its letter to the university, seen by CNN, the Iranian embassy echoed complaints made earlier by Tehran that Britain had a hand in the protests -- a claim that led to the arrest of several British embassy employees in Iran.
"It seems that the University of Oxford has stepped up involvement in a politically motivated campaign which is not only in sharp contrast with its academic objectives, but also is linked with a chain of events in post-Iranian presidential elections blamed for [sic] British interference both at home and abroad," the letter said.
"We believe that your college decision to abuse Neda's case to establish a graduate scholarship will highly politicize your academic institution, undermining your scientific credibility -- along with British press which made exceptionally a lot of hue and cry on Neda's death -- will make Oxford at odd [sic] with the rest of the world's academic institution.
Oxford University confirmed it had received the letter, saying it was a matter for Queen's College.
Paul Madden, provost of Queen's, said the decision to name the scholarship -- which is offered primarily to students of Iranian nationality or extraction -- was made by the donor who funded it.
"The college is keen to support graduate students, and this scholarship will help Iranian students to study at Oxford, regardless of their financial background," Madden said in a statement.
"Donors make their own decisions, within reason, on how to name scholarships that they fund. In this case, the donor who was instrumental in establishing the scholarship is a British citizen and is well known to the college."